WooCommerce Waitlist allows customers to sign up to be notified by email when an out-of-stock product becomes available.
As a store owner you can also review who is on the waiting list for which products, and sort products by the number of people registered on the waiting list.
Download the .zip file from your WooCommerce account.
Go to: WordPress Admin > Plugins > Add New to upload the file you downloaded with Choose File.
Activate the extension.
More information at: Installing and Managing Plugins.
Unregistered users can join a waitlist without logging in. Users only need to provide an email address to join a waitlist, and an account is automatically created without further user input. The welcome email is automatically created and sent.
The option to allow unregistered users to use waitlists can be toggled on or off, using an option within the waitlist settings. This option requires all users to login before waitlist functionality will be available (it does not stop accounts being created for guest users).
Updating Waitlist Counts
A button has been added to the waitlist settings screen to enable store owners to take control of updating the waitlist counts for their products. This is recommended when updating the plugin to one of the latest versions or if you notice the counts fall out of sync for any reason.
WooCommerce Waitlist adds a new column to the Products listing in the WordPress administration area, displaying the number of users on the waiting list for a product. This column is sortable to enable Shop Managers to quickly find the most 'sought after' products in the catalog.
WooCommerce Waitlist adds a new product tab to the Edit Product screen for out-of-stock products only. This new tab displays all users on the waiting list for the product and has controls for adding, removing and emailing users.
When editing a waitlist through the Edit Product screen, the product must be saved for changes to take effect.  All email links located on this page are mailto links which activate the default mail client on your computer for sending an e-mail.
When a product is switched from 'Out-of'stock' status to 'In-stock', WooCommerce Waitlist sends all users on the waiting list an email informing them that the product is back in stock, with a link to the product listing itself for making purchases. The emails follow the same design as all other WooCommerce emails, but the subject and the heading can be altered from within WooCommerce > Settings > Emails > Waitlist Mailout.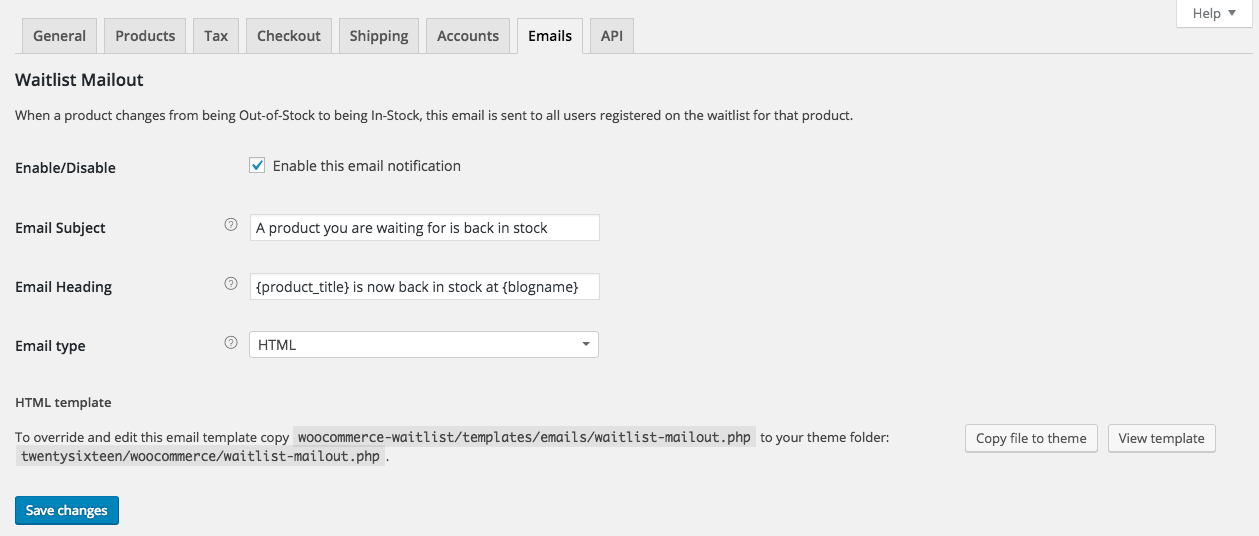 Once this email is sent, WooCommerce Waitlist removes all users from the waiting list for this product. If the product is subsequently switched back to 'Out-of-stock', the waiting list will be empty.
When a product comes back into stock and automated emails are turned on, a record of the waitlist is saved.
This record lists all users that were sent the notification and date that it was sent.  In the event that these users need to be contacted subsequent to the waitlist email, controls to email individual users or all users at once have been added.
The waitlist history for a product can be accessed from the waitlist tab on the product screen.
WooCommerce Waitlist comes with action and filter hooks for your customization needs. For more information on using hooks in WordPress, see Plugin API.
Note:
This is a
Developer level
 section. If you are unfamiliar with hooks and filters and resolving potential conflicts, select a
WooExpert or Developer
 for assistance. We are unable to provide support for customizations under our 
Support Policy
.
wcwl_before_add_user_to_waitlist – passes the WC_Product and WP_User objects as parameters
wcwl_after_add_user_to_waitlist – passes the WC_Product and WP_User objects as parameters
wcwl_before_remove_user_from_waitlist – passes the WC_Product and WP_User objects as parameters
wcwl_after_remove_user_from_waitlist – passes the WC_Product and WP_User objects as parameters
wcwl_mailout_send_email – passes the User ID and WC_Product ID as parameters
wcwl_persistent_waitlists_are_disabled
wcwl_display_empty_waitlists_on_in_stock_products
wcwl_automatic_mailouts_are_disabled
wcwl_empty_waitlist_introduction
wcwl_waitlist_introduction
wcwl_waitlist_variation_instock_introduction
wcwl_shortcode_thumbnail
wcwl_shortcode_product_title
wcwl_update_waitlist_success_message_text
wcwl_toggle_waitlist_ambiguous_error_message_text
wcwl_leave_waitlist_success_message_text
wcwl_join_waitlist_success_message_text
wcwl_join_waitlist_message_text
wcwl_leave_waitlist_message_text
wcwl_grouped_product_message_classes
wcwl_grouped_product_message_text
wcwl_grouped_product_message_html
wcwl_join_waitlist_button_classes
wcwl_leave_waitlist_button_classes
wcwl_update_waitlist_button_classes
wcwl_dummy_waitlist_button_classes
wcwl_join_waitlist_submit_button_html
wcwl_leave_waitlist_submit_button_html
wcwl_dummy_waitlist_submit_button_html
wcwl_grouped_waitlist_submit_button_html
wcwl_join_waitlist_submit_button_text
wcwl_leave_waitlist_submit_button_text
wcwl_dummy_waitlist_submit_button_text
wcwl_grouped_waitlist_submit_button_text
wcwl_toggle_waitlist_url
wcwl_join_waitlist_user_requires_registration_message_text
wcwl_join_waitlist_invalid_email_message_text
wcwl_toggle_waitlist_no_product_message_text
wcwl_grouped_product_joined_message_text
wcwl_grouped_single_product_joined_message_text
wcwl_leave_waitlist_message_text
wcwl_join_waitlist_success_message_text
wcwl_grouped_product_style_block_css
wcwl_grouped_product_style_block
wcwl_email_salutation
wcwl_email_product_back_in_stock_text
wcwl_email_mailout_disclaimer_text
wcwl_email_visit_this_link_to_purchase_text
wcwl_email_mailout_signoff
wcwl_mailout_html
Can a customer view all the products they are on a waiting list for? ↑ Back to top
There is an experimental shortcode [woocommerce_my_waitlist] which will display a table listing all the products that the currently logged in user is waiting for.
Are customers put on a waitlist in a particular order? ↑ Back to top
Yes. Customers are added to the waitlist in the order they join. A date has also been added to make it clear when each customer joined.
Does WooCommerce Waitlist work with WPML? ↑ Back to top
Not at this time. Waitlist and WPML are currently incompatible.
Does this work for affiliate products? ↑ Back to top
No. At the moment, stock status has no bearing on the output of an affiliate product listing so these have been left well alone.
Does this work for variable products? ↑ Back to top
There is a known issue when using WooCommerce Waitlist in conjunction with variable products that prevents the Waitlist UI from being displayed in the Edit Product screen when the 'Out of Stock Visibility' option is set to ON.
You would only need to do this if you were managing waitlists internally, but did not want customers to be able to join a waitlist via the front-end of your site.
The only current solution to this problem is to turn this option off: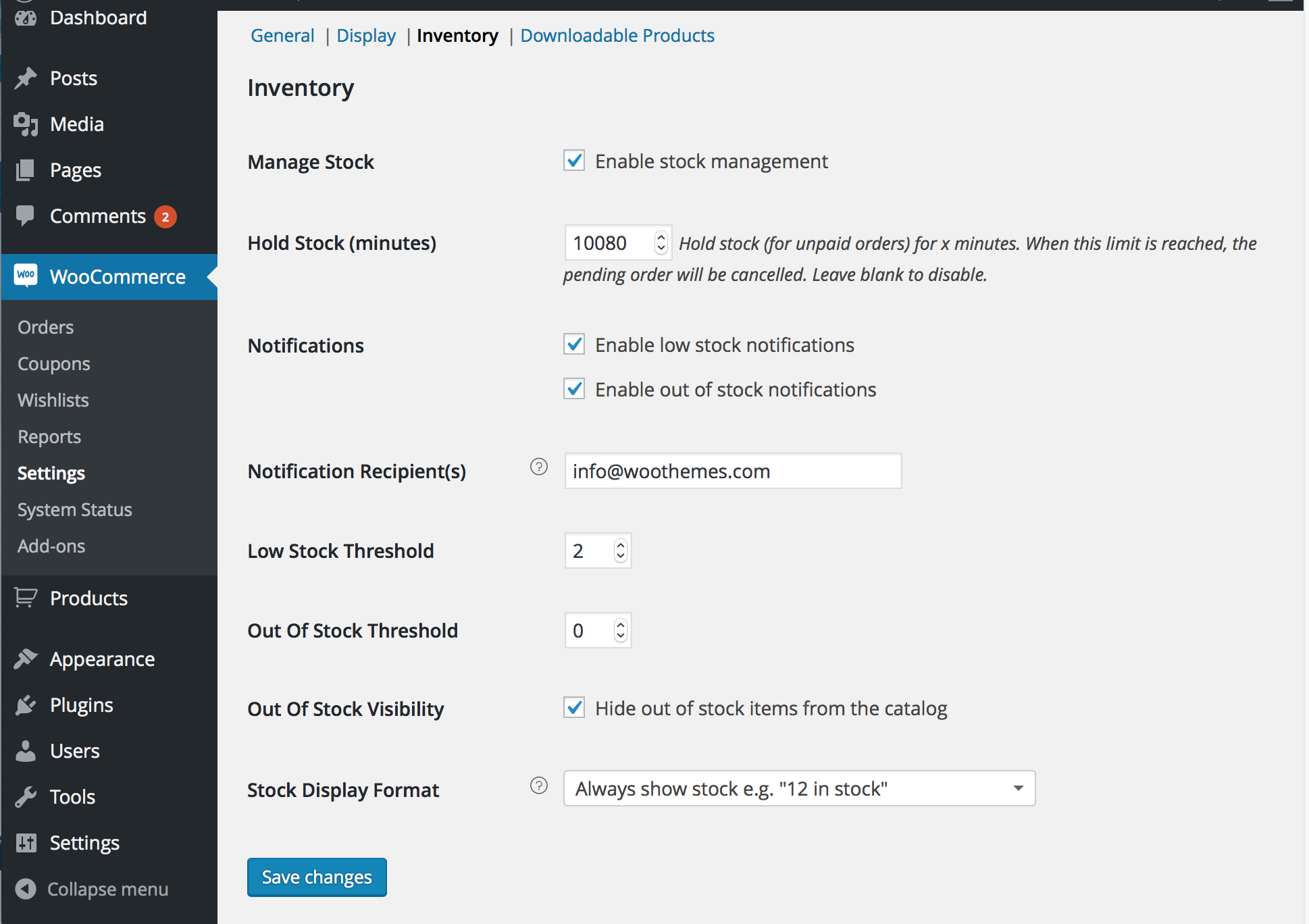 How do I change the subject/content of emails? ↑ Back to top
The content of the email and the subject line are both editable via the WooCommerce email system. WooCommerce Waitlist adds a new section to the 'Emails' tab of WooCommerce Settings where this can be managed. More information at: Configuring WooCommerce Settings.
What if I don't want users to be automatically emailed when a product is back in stock? ↑ Back to top
We have you covered. Add the following snippet to the functions.php file in your theme, and no email will be sent and users remain on the waitlist.
add_filter( 'wcwl_automatic_mailouts_are_disabled', '__return_true' );

What if I want to email users automatically, but don't want them to be removed from the waitlist? ↑ Back to top
That's possible also. Add the following snippet to the functions.php file in your theme, and users remain on the waitlist until they purchase that product.
add_filter( 'wcwl_persistent_waitlists_are_disabled', '__return_false' );

Why does Waitlist only show up for some products? ↑ Back to top
If you're using the Advanced Notifications extension, be sure to disable the backorder setting.

Have a question before you buy? Please fill out this pre-sales form.
Already purchased and need some assistance? Get in touch the developer via the Help Desk.