This document references some of the most popular free mini-extensions for Mix and Match Product. Do to the complexity of these snippets, they are only available in plugin form.
To install any of the listed mini-extensions:
Download the mini-extension and, if necessary, unzip it.
Ensure you have the latest version of WooCommerce and WooCommerce Mix and Match Products installed.
Upload the unzipped mini-extension's folder to your /wp-content/plugins/ directory.
Activate the mini-extension from the Plugins menu in WordPress.
All Products for WooCommerce Subscriptions ↑ Back to top
Available on the WooCommerce Marketplace.
All Products for WooCommerce Subscriptions is a premium extension for WooCommerce Subscriptions that provides subscriptions support for non-subscription product types. It allows you to attach subscription options to Simple products, Variable products, Composite Products, Product Bundles and Mix and Match Products, and includes a neat feature: The ability to switch any product from a one-time purchase to a subscription, even after is has been added in the cart.
Example: Offering a Mix and Match product as a Subscription
As an example, we will be taking a look at Almonds Mix, a 500g mix and match assortment of 5 different 100g almond packs, offered as a subscription at 20% off: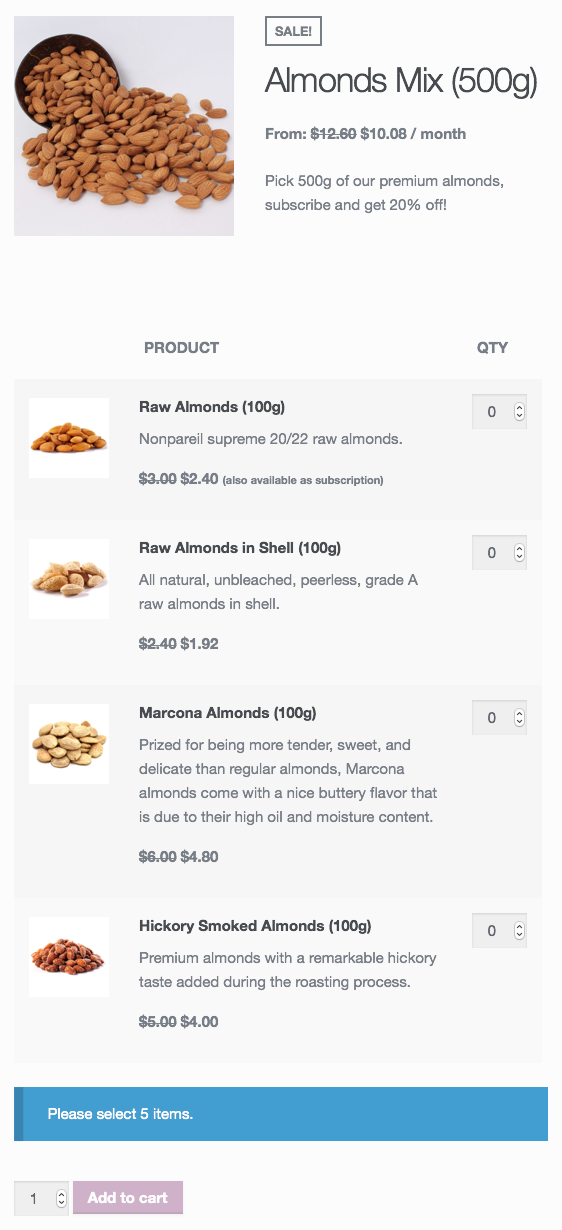 Note that All Products for WooCommerce Subscriptions will add a new Subscription tab to the product data metabox, which can be used to configure the subscription parameters of our Mix and Match product. To offer the assortment as a subscribed group of products, we have created a single subscription option and ticked the Force Subscription checkbox:
After adding the configured assortment to the cart, all bundled cart items, along with the container cart item itself, are converted to subscriptions with the same period, interval and length:
All Products for WooCommerce Subscriptions currently only supports statically-priced Mix and Match containers. However, as of Mix and Match 1.4.0 you can use the WC MNM SATT Bridge plugin to provide compatibility.