Complete solution for B2B and B2B+B2C WooCommerce stores ↑ Back to top
Wholesale for WooCommerce provides incredible versatility and control over pricing, discounts, shipping, product variations, categories, minimum and maximum orders, taxes and fees, and tax exemptions.
Create & Manage Multiple User Roles ↑ Back to top
Create multiple user roles for wholesale members so that you can segregate your customers and their buying/selling preferences. Create unlimited wholesale user roles and define different discounts for each role through products.
Manage Wholesale prices for single or multiple products ↑ Back to top
Set your wholesale prices for both individual or multiple products and their variations. Similarly, add the price input field so you can enter separate pricing information for users with the "Wholesale customer" role.

Manage Approval/Rejection requests – Manually or Automatically ↑ Back to top
Manage registration form requests through an easy to use in-built system that allows you to accept or reject users via manual or automatic setting options.
Front-end Wholesale Registration form ↑ Back to top
Create and embed an easy Wholesale Registration Form on your website that allows users to sign-up as wholesale customers.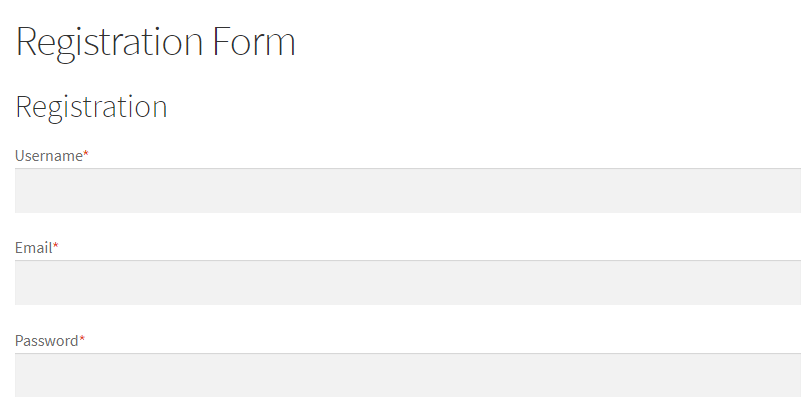 Apply wholesale prices based on minimum quantity ↑ Back to top
You can set the minimum quantity on wholesale products so if the user's order doesn't meet that quantity requirement, they end up paying the retail price.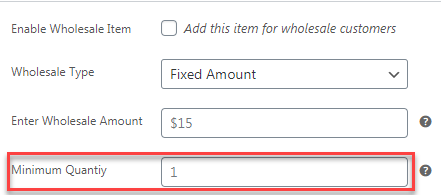 Control product and price visibility ↑ Back to top
Optionally hide "retail only" products or its variations from wholesale shoppers – Have control over your product and its pricing visibility options.
Exempt wholesale users from paying tax – Tax-exempt rules can be applied globally for wholesale user roles.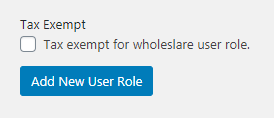 Add fix amount or percentage-based discount pricing ↑ Back to top
Option to add fixed amount prices on wholesale products or their variations, or percentage-based discounts on pre-defined quantities. These settings can be enabled on specific products, specific product categories, or total cart quantity.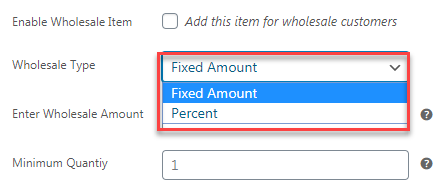 Category based Discount on all Products ↑ Back to top
You can now apply percentage discounts or fixed discounts on a category instead of setting individual discounted prices per product. If you want to apply wholesale prices on a specific category's products, this is the best way to apply discount.
Global percentage discounts and fixed discount on all products ↑ Back to top
Set wholesale pricing globally across your store instead of changing the prices of each product manually. You can simply override the prices of each product with this functionality.
Disable payment methods for specific wholesaler role ↑ Back to top
The ability to disable any payment gateway for your wholesale role that allows the admin to restrict any payment gateway they desire from the backend settings. These payment gateways will not display on the checkout page to the selected wholesaler role.
Add minimum quantity restrictions on wholesale Products ↑ Back to top
This functionality allows you to apply minimum quantity restrictions on wholesale products so wholesalers must add to cart minimum quantity to get discount.
Integration With WooCommerce Subscription Products ↑ Back to top
Create Variable Subscription products with corresponding attributes and product variations. Automatically change your customer's user role when they buy a Variable Subscription, or revert it back to a Default role when they cancel it.
+
Wholesalers will not be able to use specific coupon codes on the cart and checkout page.
Restrict product visibility ↑ Back to top
Restrict product visibility from single or multiple wholesale user roles. These products will only be visible to retail customers.
Restrict product category visibility ↑ Back to top
Restrict product category visibility for single or multiple wholesaler user roles. Save time from hiding products individually (one-by-one).
Price labels: Retail pricing label, wholesale pricing label and saves price label.
Email notification (Admin and User Notification Email).
Translate using .PO .MO files.
Translate using WPML Plugin.