Should you purchase a single key/subscription, or 5-site, and later want to buy more, you can do this and pay only the difference between packages.
How to upgrade your subscription/key ↑ Back to top
1/ Find your key at My Subscriptions via your WooCommerce.com Account page.
2/ Go to the extension or payment gateway page you'd like to upgrade, and you'll see a link in the Subscription Options product box that says UPGRADE.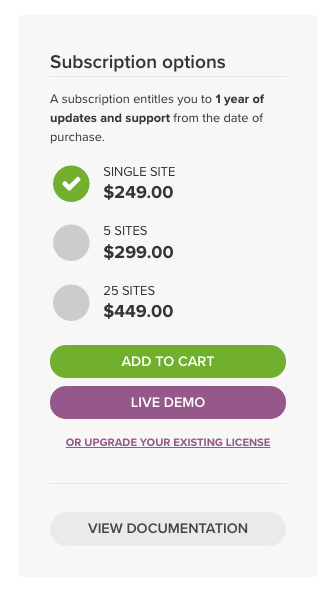 3/ Select Upgrade Your Existing License to enter your current site key.
4/ Choose the subscription you wish to upgrade to, and Add to Cart.
5/ Pay only the difference between subscription packages in checkout.
Need some assistance? Get in touch with a Happiness Engineer via the Help Desk.