WooCommerce Subscriptions offers two methods for accepting recurring payments – automatic payments and manual payments. If you do not already understand the difference between the two methods, please read 
Subscription Renewal Process
 before continuing.
This guide provides a detailed and up-to-date list of the gateway extensions which support one or both payment methods. For those extensions which support automatic payments, it also provides information about the supported subscription specific features.
Extensions for Automatic Payments ↑ Back to Top
The following payment gateway extensions support automatic recurring payments and are part of the official WooCommerce marketplace. This means they are backed by WooTheme's support and customer service.
Different payment gateways offer different features. The tables below outline which Subscriptions features are supported by each WooCommerce payment gateway. An explanation of each feature can be found below the table.
Basic Features
Advanced Features
Notes on Extension Support
This guide is based on the official WooCommerce extension for each payment gateway. It does not mean automatic payments are supported when:
Using an extension purchased or downloaded from a vendor other than WooThemes.
Accessing one of these gateways through a third party hosted checkout system, like Mijireh Checkout.
a gateway which integrates with another payment gateway unless that payment gateway is also mentioned above. For example, customers can purchase subscriptions and have future automatic recurring payments processed with PayPal via the Braintree WooCommerce extension, which is why there is a row in the table above for Braintree (PayPal); however, other payment gateways may also offer PayPal payments but they can not be used to create subscriptions with automatic payments via PayPal.
The table is also referring to the latest version of the payment gateway extension, if you have an out-of-date version installed, automatic payments may not be enabled. You can check the latest version by viewing the changelog for each extension. To view the changelog:
Click the name of the extension in the table. This will take you to its page in the WooThemes catalogue.
Find the link on the catalogue page that says View changelog.
Click the View changelog link.
Explanation of Features
Subscription Suspension, Cancellation or Reactivation: a store manager or customer can change the status of a subscription directly from your store, i.e. without having to visit the payment gateway.
Multiple Subscriptions: a customer can add different subscription products to their cart and complete checkout. This feature is explain in more detail in the Guide to Multiple Subscriptions.
Modifications: Recurring Total: you as the store manager can manually change the recurring amount charged for renewal payments.
Modifications: Payment Date: you as the store manager can manually change the payment schedule for a subscription, including the expiration date, trial length or next payment date.
Payment Method Changes: Customer: the payment gateway will be presented as an option when the customer changes the recurring payment method used for a subscription. It also means Subscriptions can update the payment method used for future recurring payments when a customer pays for a failed renewal.
Payment Method Changes: Administrator: the payment gateway will be presented to the store manager as an option when changing the recurring payment method used for a subscription on the Edit Subscription screen.
PayPal Standard Limitations
Although PayPal Standard is included free with Subscriptions, it is also one of the most constrained payment gateways.
In addition to not supporting payment date or amount changes, when using automatic recurring payments, there are other limitations with PayPal, including:
it does not support upgrading or downgrading a subscription.
it only supports selling subscriptions on one website per PayPal account;
PayPal takes control of the schedule for charging recurring payments payments and batch processes payments, this means that they do not process payments exactly when they are due. Instead, PayPal will process a payment within 24 hours of when the payment is due. For example, if a recurring payment is due at 2pm on 1st July, PayPal may charge that payment anytime between 12:00am and 11:59pm on the 1st of July. Depending on your timezone, this may cause payment to be processed on a different day to the day the customer signed up.
does not support subscriptions with a $0 recurring total (i.e. subscriptions where the total cost is charged up-front, but an item is still shipped on a regular basis. WooCommerce Subscriptions does work around this limitation by sending the initial purchase to PayPal as a one-off purchase and then processing the renewals itself; however, subscriptions with a $0 total won't show up in your PayPal account like other subscriptions.
does not support subscription sign-up fees. WooCommerce Subscriptions will work around this limitation by splitting the payment if it includes a sign-up fee. It can then add any initial amount to an initial billing period, which PayPal unfortunately refers to as a Trial Period, and then set the correct recurring amount for all future payments. The initial and recurring totals will add up correctly and the billing schedule will be the same as agreed to on your site; however, it may be confusing to your customers if they review a subscription's details in their PayPal account and see the Trial Period listed on a subscription with no mention of a trial period in your store.
for automatic recurring payments, subscribers will need a PayPal account, unless you have registered for Enhanced Recurring Payments (unfortunately, PayPal only offers Enhanced Recurring Payments to US companies).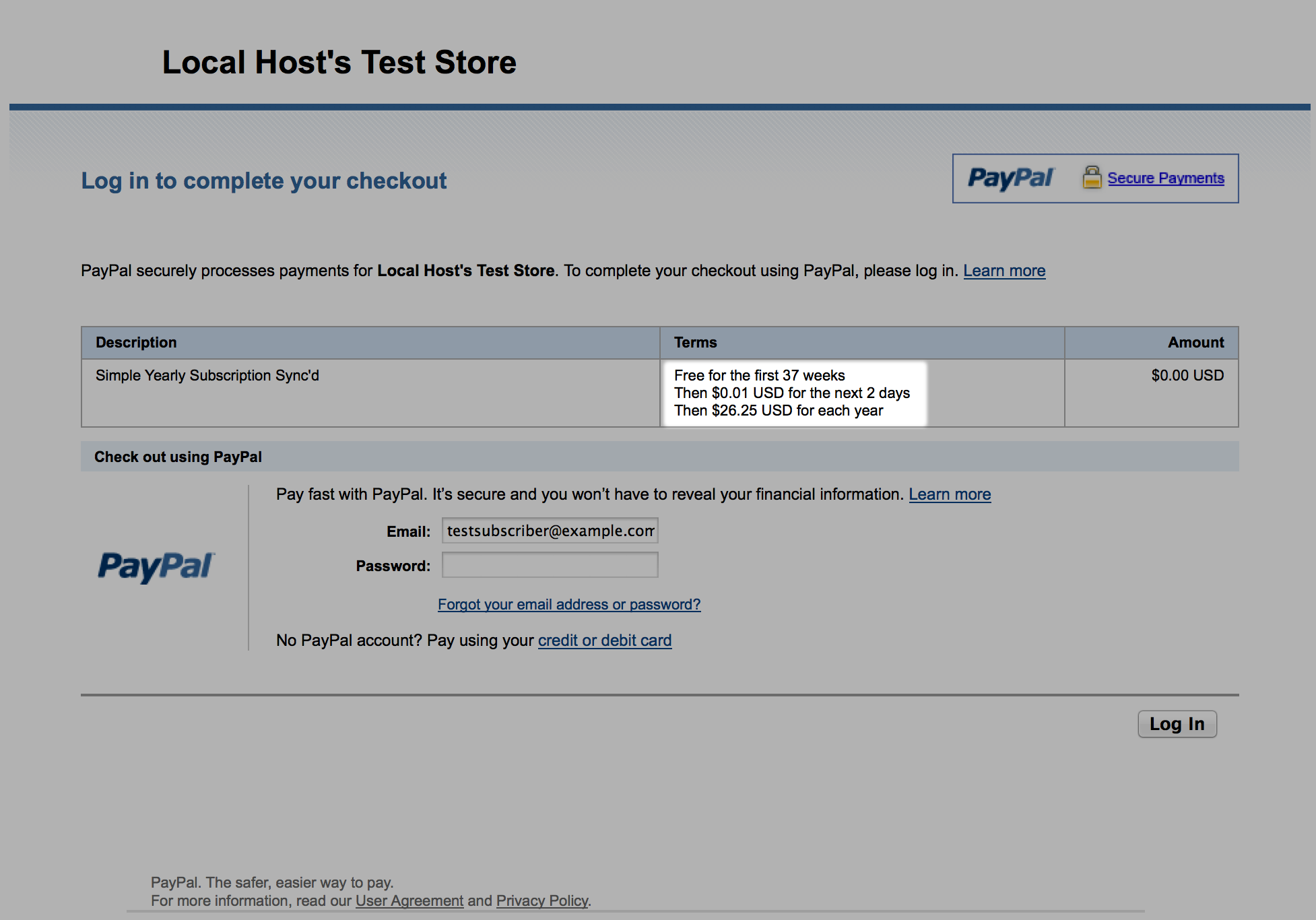 Extensions for Manual Payments ↑ Back to Top
All WooCommerce payment methods and gateway extensions can be used to process manual subscription payments. Subscriptions creates a pending order for the renewal, then that order can be paid for with any gateway with a working WooCommerce extension.
When using a manual payment for a subscription, all features included in the table above are supported. That is, the subscription can be suspended, cancelled and reactived. It can also have it's recurring amount, next payment date and billing schedule changed.
The renewal method applied to a subscription at the time of purchase will always be applied to the subscription. That means, if the payment method used to purchase a subscription could only process manual renewal payments at the time of the purchase, the subscription will continue to require manual renewal payments even if the payment gateway extension adds support for automatic recurring payments.
3rd Party Extensions with Automatic Payment Support ↑ Back to Top
The following payment gateway extensions support automatic subscription payments and are developed by 3rd party developers. These are not sold or supported by WooThemes, so you will need to contact the extension authors with questions, but they are included here as you may find them helpful.
Want a different payment gateway? ↑ Back to Top
If you have another gateway you want to use to sell subscriptions and charge automatic payments, please contact the developer of the WooCommerce extension for that gateway to request they add support for the WooCommerce Subscriptions extension.
If you are a developer and want to add support for automatic subscription payments to your gateway extension, please see the Subscriptions Payment Gateway Integration Guide.