The Stripe payment gateway for WooCommerce lets you accept payments directly onsite. Download it now at WordPress.org.
Go to Plugins > Add New on your WordPress site.
Enter WooCommerce Stripe in the Search Plugins bar. Author is Automattic/WooCommerce.
Click Install Now and Activate.
To learn more, see Installing and Managing Plugins.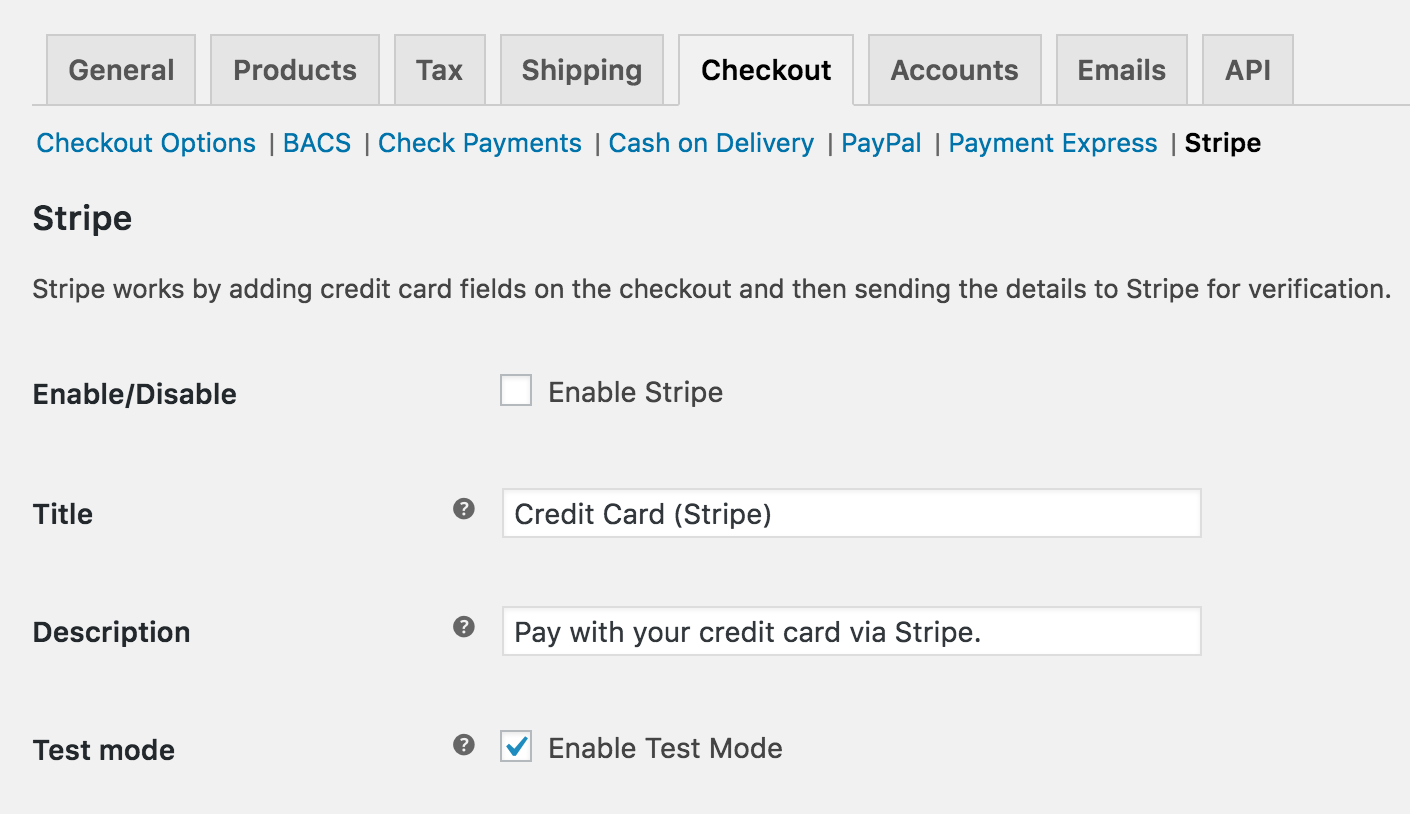 Go to: WooCommerce > Settings > Checkout> Stripe
Tick the Enable Stripe checkbox. Untick to disable.
Enter a Title (required) and Description (optional) seen by the customer during checkout.
Tick the Enable Test Mode checkbox, if you wish to test before going live. Untick to begin accepting payments with Stripe.
Enter your Live Secret Key and Live Publishable Key (obtained from your Stripe account). The Test Secret Key and Test Publishable Key are different and should only be used when Enable Test Mode selected in step 4.
Tick the checkbox to Capture Charge Immediately (Authorize and Capture) or untick to only Authorize. If you untick the box, you need to capture funds manually for each order via the order screen.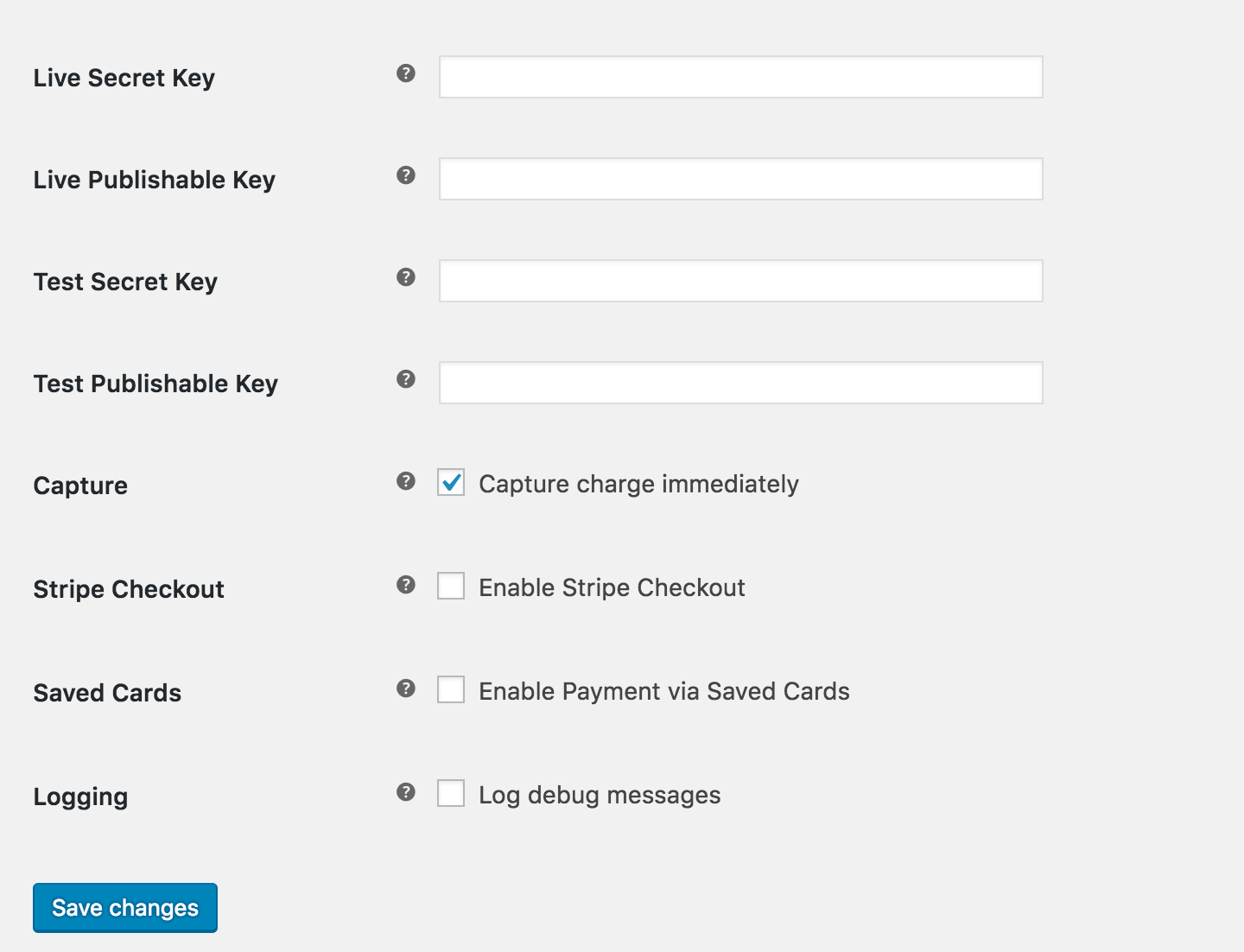 Select Enable Stripe Checkout if you prefer a popup to request details, the ability to accept Bitcoin and using a checkout image. See next section Stripe Checkout to understand how it appears to customers.

Select Saved Cards, if you want to give Stripe customers the ability to use a card saved on their account.

Select Log Debug Messages, if you wish to save logs that can help you/us troubleshoot your site.

Save Changes.
The same single user account credentials cannot be used to make purchases in both Live Mode and Test Mode.
If you tick the box for Enable Stripe Checkout, more options open:

Stripe Checkout locale: English is default. Chinese, Dutch, French, German, Italian, Japanese and Spanish are also offered Auto displays user's preferred language, if available.
Bitcoin Currency: Tick the box if you would like to accept Bitcoin via Stripe.
Stripe Checkout Image: Enter the URL of a 128×128 px image/logo to be displayed in checkout. Use an image already uploaded to your site or upload one now at Media > Add New.
Enable Stripe Checkout refers to this service:  https://stripe.com/blog/stripe-checkout Instead of an inline payment form, which is the default setting, a pop-up is used to collect credit card details from the user.
Customers pay on the checkout page. Using a new card, they see the following:
On the 'My Account' page, customers can add, view, and remove cards from their account:
The method is not showing. ↑ Back to top
In live mode, an SSL certificate must be installed on your site to use Stripe. In addition to SSL encryption, Stripe provides an extra JavaScript method to secure the card data.
When switching from the paid Stripe gateway to the free version, will my settings be saved? ↑ Back to top
Yes, after installing the free Stripe 3.X version, your settings from the paid Stripe 2.612 version will carry over.
Can a single customer have multiple subscriptions? ↑ Back to top
Using the WooCommerce Stripe extension and WooCommerce Subscriptions, you can have multiple subscriptions in your WooCommerce store. It should be noted that WC Subscriptions and the WC Stripe extension don't use Stripe's Recurring Plan feature, but instead manage subscriptions in WooCommerce and use token billing for each recurring payment.
Is it possible to override templates on the checkout page? ↑ Back to top
Yes. This extension only has one template, which is: saved-cards.php. To override it, copy the original template from wp-content/plugins/woocommerce-gateway-stripe/templates/ and place it in the wp-content/themes/your-theme-name/woocommerce-gateway-stripe/ folder. Open and edit as you wish.
What version of the Stripe API does this plugin use? ↑ Back to top
This plugin uses v1 of the Stripe API.
Does this extension support Bitcoin? ↑ Back to top
Yes, it does. As of version 2.4.0, Stripe accepts payment in Bitcoin (WooCommerce > Settings > Checkout > Stripe > Enable Bitcoin Currency). Refunds can be issued via the Stripe Dashboard and will require the customer's Bitcoin address. See Changelog.
Recurring and repeat payments with Bitcoin are not currently supported. Bitcoin may only be used for a one-time payment. More at: Stripe – Bitcoin Guide.
Does this extension support Stripe Connect? ↑ Back to top
No, not currently; we're unable to integrate it at this time.
Does Stripe use AVS – Address Verification System? ↑ Back to top
Yes! This is enabled in your Stripe account dashboard and will then work in WooCommerce. See Stripe's documentation about Avoiding fraud and disputes.
Does Stripe Support Authorization and Capture? ↑ Back to top
Yes! This is an option in the extension settings. Charges can be captured from within the WooCommerce dashboard. Please note that un-captured authorizations will expire after 7 days.
When the Stripe payment gateway is set to authorize, orders made via Stripe will have the status on hold and the following note: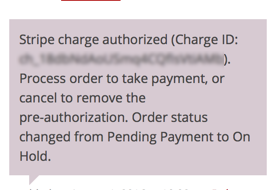 Change the order status to processing or completed to take payment or cancel the order to remove the pre-authorization.
Does Stripe allow refunds inside WooCommerce? ↑ Back to top
Yes. More info at: WooCommerce Refunds.
The Stripe plugin from WooCommerce does not support ACH.
Why aren't my subscriptions displayed in the Stripe Dashboard? ↑ Back to top
WooCommerce Subscriptions does not use the Stripe Subscriptions feature. Instead, it uses a Stripe Customer and Card token and controls the processing of recurring payments.
This avoids many potential issues that could occur by trying to keep two copies of each subscription's data in sync on two different systems (one in your store and one at Stripe). It also and makes it possible for Stripe to support all of WooCommerce Subscriptions' features, like payment date changes, rather than only those the Stripe Subscriptions allows.
Because of this, you will not see subscriptions created with WooCommerce in your Stripe Dashboard as Subscriptions. This does not mean recurring payments will not be processed. As long as your store is running correctly, recurring payments will be processed correctly and will show up in the Stripe Dashboard as Payments.
There are known issues with the Root Relative URLs plugin. You will not be able to use this with Stripe.
I get an error when placing an order telling me to enable JavaScript. ↑ Back to top
This error may be caused by non-standard/poorly coded themes and JavaScript (JS) issues. Common issues include:
Javascript errors on the checkout page – To view the error, open up your browser error console (in Chrome: View > developer > javascript console) and look for red errors. This should indicate where the error is located and lead you to the problem, i.e., loading jquery wrong
Failing to load scripts – Stripe loads 2 JS files which it needs to function. If these are not loaded you will see errors. The most common reasons for not loading are:

A theme missing wp_head() or wp_footer() calls
Old overridden template files from WooCommerce inside your theme
Loading headers/footers in a non-standard way. WooCommerce uses get_header()'s get_header action to init the checkout and load scripts. If you are not using get_header() you either need to do so, or you need to trigger the get_header action manually using: do_action( 'get_header ); in your custom header loader.
I get an error, "Please make sure your card details have been entered correctly and that your browser supports JavaScript." ↑ Back to top
The solution is almost always a theme conflict. Try switching to the Twenty Fifteen theme to see if the issue disappears. If so, you likely have a JavaScript error or conflict in your theme. Try to find the JavaScript error or switch to a higher quality theme.
Ensure that you have input the correct keys. If you are in live mode, you should have entered live keys (not test keys).
If you are using test mode, keys are prepended with sk_test and pk_test.
If you are using live mode, keys are prepended with sk_live and pk_live.