Smart Coupons provide a powerful, "all-in-one" solution for gift certificates, store credits, discount coupons, and vouchers extending the core functionality of WooCommerce coupons.
This doc article explains how you can configure a coupon to gift a product.
This is one of the powerful features of Smart Coupons for promotions. This feature allows you to link a product or more to a coupon. When this coupon will be applied to the cart, the linked product/s will be added to the cart automatically. Additionally, you can apply some discount on the linked product/s, if you wish.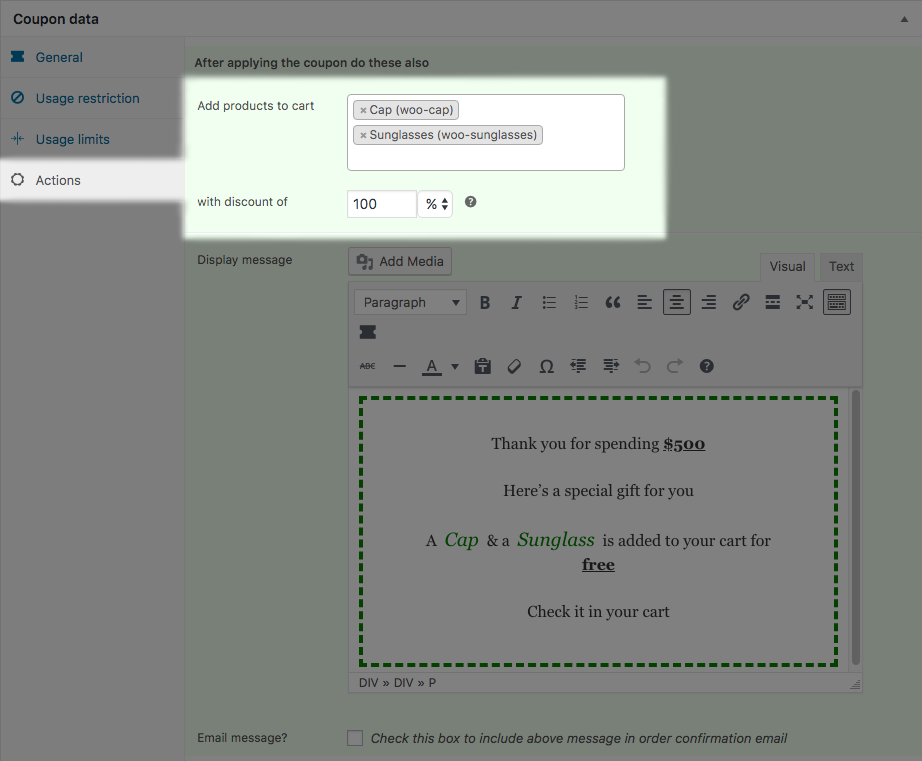 Create a new coupon or open an existing coupon
If you're creating a new coupon, set discount type, amount & other settings as per your requirement
Go to tab "Actions"
Under "Add products to cart", search for & select product/s  which you want to give as a gift
Under "with discount of" you can set a discount. This discount will be applied to the product/s of step 4 in the cart. You can set 2 types of discount for the gift product:

Percentage (%) – default
Fixed amount

Publish or save the coupon.
To apply this coupon, the cart should have at least one product & the coupon should be valid for that cart, only then the gift product will be added to cart.
If you want to apply the discount only to the gifted products & not to the other items in the cart, you can set the coupon's amount as 0 (zero).
The discount set under "Actions > with discount of" will be applied only to the product/s under "Add products to cart"