Smart Coupons provide a powerful, "all-in-one" solution for gift certificates, store credits, discount coupons, and vouchers extending the core functionality of WooCommerce coupons.
This doc article explains how you can use a shortcode to display available/usable coupons on any page.
By default, the Smart Coupons plugin displays available/usable coupons on cart, checkout & my account page. But if you want to display those coupons on any other pages you can use a shortcode '[wc_sc_available_coupons]'.
[wc_sc_available_coupons title="Available Coupons (click on a coupon to use it)"]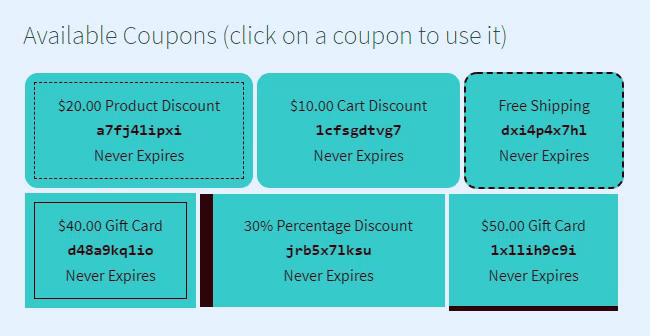 Note: In the above screenshot, all pre-defined coupon styles are showing together. It's only used to display the available type of coupon style. At a time you can set only one coupon style.