Smart Coupons provide a powerful, "all-in-one" solution for gift certificates, store credits, discount coupons, and vouchers extending the core functionality of WooCommerce coupons.
This doc article explains how to setup & configure Smart Coupons.
Go to: WooCommerce > Settings > General > Enable coupons. Make sure coupons are activated on your store.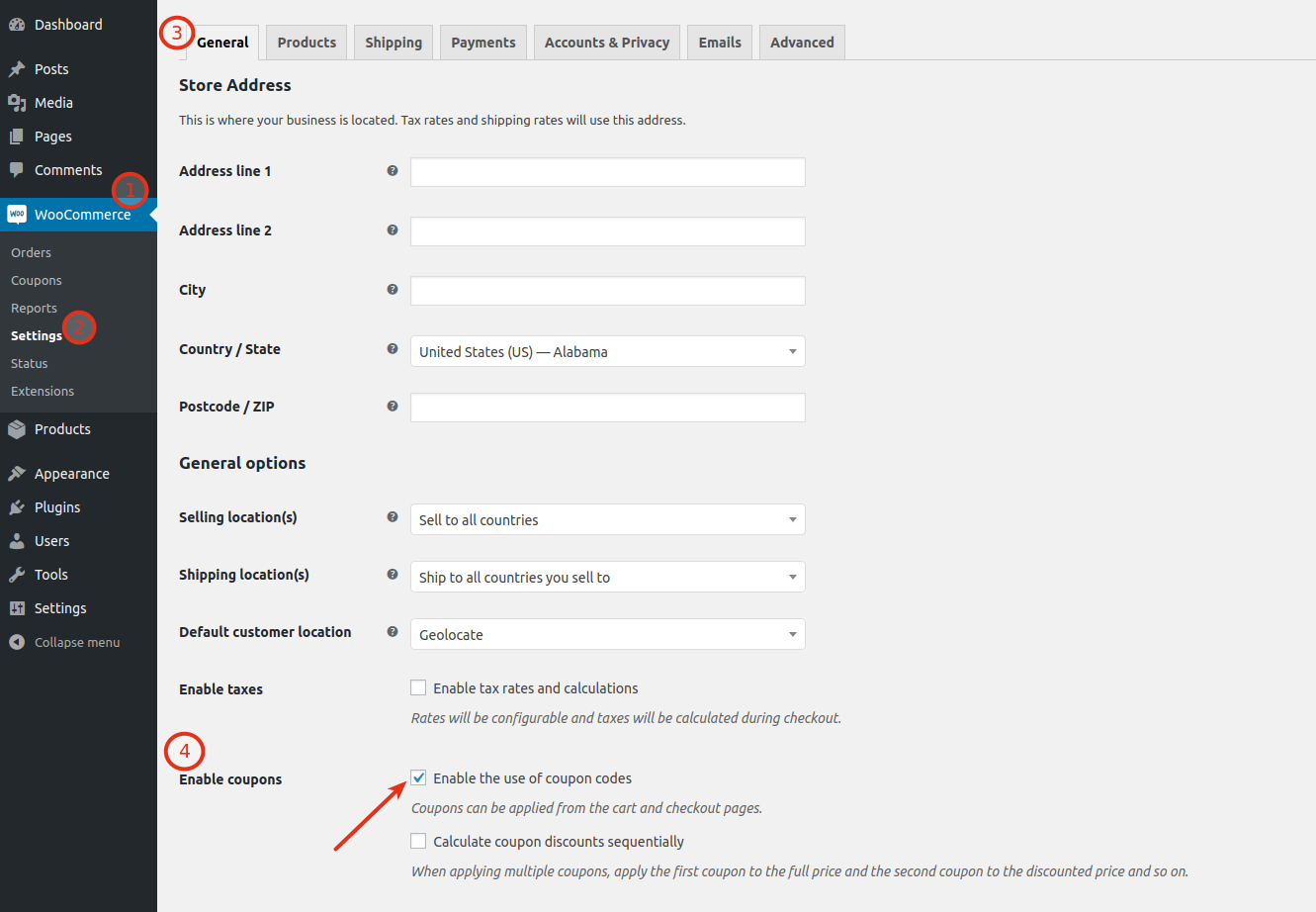 Note: All the screenshots on this page are from version 4.4.0. The appearance of fields might differ if you're using the older version.
Go to: WooCommerce > Settings > Smart Coupons. You'll find the following Smart Coupons settings: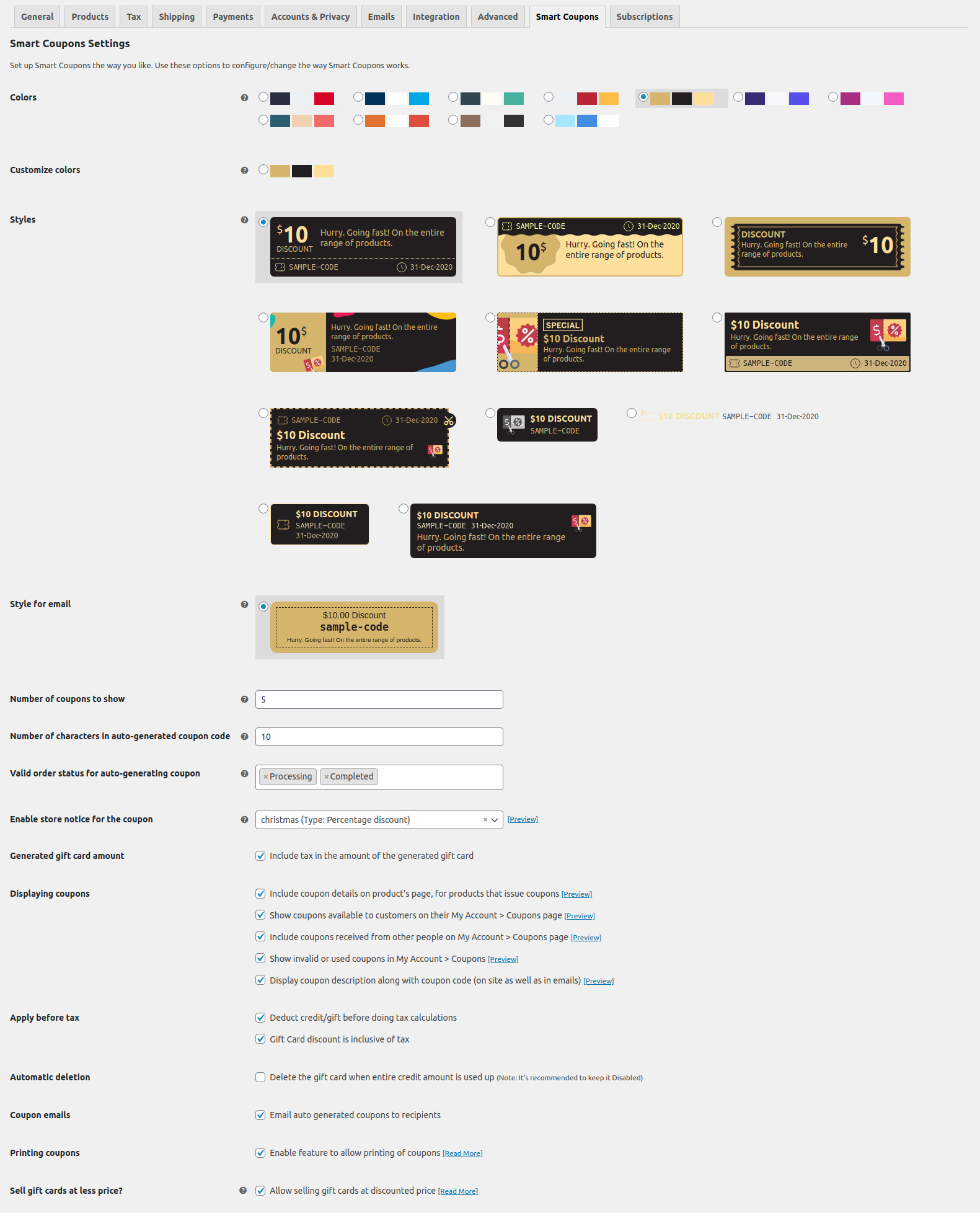 Coupon design: How the coupon should look on the website. Choose from pre-defined designs, choose background color, text & border color (as per your theme's color scheme). More information from here.
Number of coupons to show: How many coupons (at max) should be shown on cart/checkout page?
Number of characters in auto-generated coupon code: This option can be used to set the length of the coupon code that is generated automatically excluding prefix and/or suffix. The default length of the auto generated coupon code is 13. It is recommended to keep this number between 10 to 15 to avoid coupon code duplication.
Subject for Coupon emails: Subject for coupon details emails to customers.
Displaying Coupons: Settings related to displaying coupons on the store. You can Enable/Disable these settings
Automatic Deletion: Delete the store credit/gift coupon when entire credit amount is used up (Note: It's recommended to keep it Disabled)
Apply Before Tax: Deduct credit/gift before doing tax calculations
Coupon Emails: Email auto-generated coupons to recipients
Store Credit / Gift Certificate: Use this option to rename Store Credit / Gift Certificate on your site. For example, if you want to call Store Credit / Gift Certificate as Gift Voucher on your store then set both the Singular and the Plural name for 'Gift Voucher'. In this case, the Singular name will be 'Gift Voucher' and Plural name will be 'Gift Vouchers'.
The renamed label will be shown on all pages that has the text 'Store Credit / Gift Certificate' except on Smart Coupons Welcome page, Smart Coupons Settings page, and Smart Coupons Privacy Policy guide.
Store Credit Product CTA: This is what will show instead of "Add to Cart" for products that sell store credits [Preview]
While purchasing Store Credits: When you opt to allow people to buy store credits of any amount, this label will be used [Preview]
"Coupons with Product" description: This is the heading above coupon details displayed on products that issue coupons [Preview]
On Cart/Checkout pages: This is the title for the list of available coupons, shown on Cart and Checkout pages [Preview]
My Account page: Title of available coupons list on My Account page [Preview]
Coupon Reciever Details Form ↑ Back to top

Title: The title for coupon receiver details block [Preview]
Description: Additional text below the title [Preview]
Save changes.