Sales countdown timer plugin for WooCommerce enables you to display countdown timer and quantity counter on product and shop page.
Download Sales Countdown Timer for WooCommerce and have your .zip file
At the WordPress admin panel, go to the Plugins section, and click 'Add New' to upload and install the plugin you just downloaded from WooCommerce.
Upload the .zip file to proceed with the installation.
Wait until the plugin installs. After successful installation, activate the plugin, and move on to configuration settings.
Sales Countdown Timer Configurations ↑ Back to top
Go to the settings of product you want to display countdown timer and navigate to Product Data Section, here click the Sales Countdown to enable the sales countdown timer. You can set
Start and end date of discount period
Set the quantity of products available for sale
Sale price of a product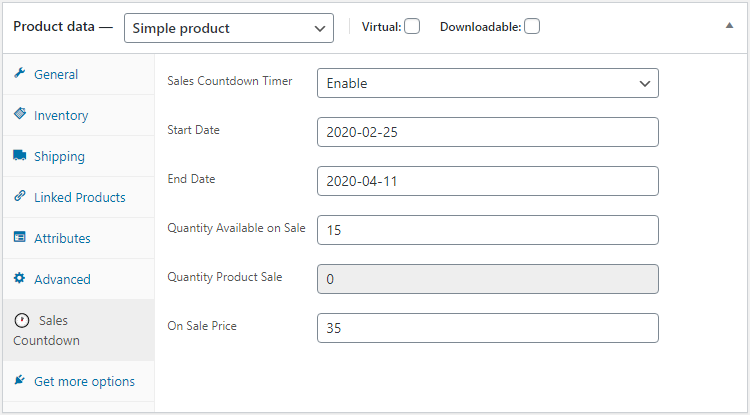 General Settings of Sales Countdown Timer Plugin ↑ Back to top
In the admin panel go to the WooCommerce >Settings>Sales Countdown Timer for general settings.
Choose if you want to display only countdown timer or quantity counter on the product and shop page. You can also select to display both at a time. If you do not want to display quantity counter then check the "Show Counter Only on Product Page".
Select Countdown Timer Box On ↑ Back to top
You have the option to display countdown timer only on the product page or shop page or you can display on both.

It enables 3 different styles for countdown timer such as Simple, Classic and Pro. Select which better suits your website.
You can choose to display the countdown timer either below the product price or below the product image.

You can use your default theme colors for countdown timer or you can customize the colors as well.