Save customers from exhausting process of checkout by allowing them to place orders on WhatsApp. Easier order placement results in higher conversions, better customer relationship, and future promotions.
Download Order on WhatsApp for WooCommerce and have your .zip file
At the WordPress admin panel, go to the Plugins section, and click 'Add New' to upload and install the plugin you recently downloaded from WooCommerce.com.
Upload the .zip file to proceed with the installation.
Wait until the plugin installs. After successful installation, activate the plugin, and move on to configuration settings.
At the admin panel WooCommerce > Settings and click Order on WhatsApp tab to configure this extension. Her you will find the three tabs for settings such as Settings, Share Button, & Show/Hide Button.
Here you can set the followings.
WhatsApp Number (Enter WhatsApp Number in International Format without any sign like + etc… )
Button Text (Customize Order on WhatsApp button text )
Apply to All Products: (Check this option to enable order on WhatsApp option to all shop)
Applied to (Select Product or Categories you want to enable WhatsApp order)
WhatsApp Button BG Color (Select background color for WhatsApp button)
WhatsApp Button Text Color (Select text color of WhatsApp button)
Place Button (Display button after or before Add to Cart button)
Open WhatsApp in (Select New Tab option to open WhatsApp in new tab)
Prefilled WhatsApp message(Customize auto-filled message when WhatsApp app opens)
You can configure share on WhatsApp button settings in this tab. Here you can  find the following settings.
Show Share Button (Choose "Yes" to enable WhatsApp share button)
Share Button Text (Customize WhatsApp share button text)
Show Button BG color (Customize WhatsApp share button background color)
Show Button Text color (Customize WhatsApp share button text color)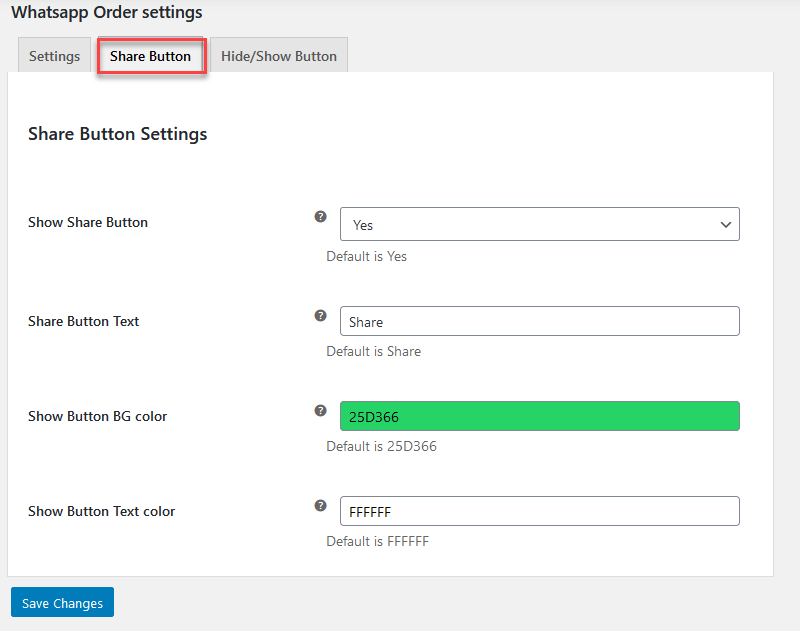 Show On Shop Page (Check this option to display WhatsApp Order button on shop page)
Show On Single Product Page (Check this option to display WhatsApp Order button on product page)
Show Button On Cart Page (Check this option to display WhatsApp Order button on Cart page)
Hide Cart Button on Shop Page (Hide Add to Cart button from shop page)
Hide Cart Button Product Page (Hide Add to Cart button from shop page)
Allow WhatsApp Checkout Page (Check this option to enable order on WhatsApp on checkout page.
Hide WhatsApp Button On Desktop (Hide WhatsApp button for desktop users)