Take a moment to review server requirements before installation, or you may encounter issues when using WooCommerce.
Upon activation, WooCommerce installs several items it requires to function properly:
If you have an existing WordPress site setup and want to install WooCommerce, using the WordPress Admin is the most straightforward option, as it handles getting the plugin onto your site for you.
To install WooCommerce:
Log into your WordPress site.
Go to: Plugins > Add New.
Type 'WooCommerce' into the Search Plugins… field. You'll find our plugin that's made by Automattic as the first result.
Select Install Now.
Select Activate Now, and you're ready to get started!
Hosting
This is an eCommerce plugin for WordPress. We have a few recommended hosts that install WordPress, WooCommerce, and our Storefront theme for you. They also have eCommerce-specific features such as a dedicated IP, SSL certificates, and more to keep your store protected and secure.
FTP Setup
When installing a plugin with some hosts and WordPress setups, you may be taken to a page requesting FTP details for your server. Fill in your details to complete installation. Those details can be found via your host.
Setup Wizard
Once WooCommerce is activated for the first time, the WooCommerce Setup Wizard helps you set up your shop.
Select Let's go! to get started. Or select Not Right Now if you prefer to manually set up your WooCommerce shop.
Manual Store Setup
You can add the WooCommerce pages in several ways:
Go to: WooCommerce > System Status > Tools > Install Pages.
Create the pages yourself, and add them in their WooCommerce > Settings > 

Products > Display > Shop Page
Checkout > Checkout Options > Cart Page and Checkout Page
Accounts > My Account Page
Theme not displaying correctly? ↑ Back to top
If you are using a third-party (non-Woo) theme and WooCommerce pages aren't displaying correctly, ensure that your theme declares WooCommerce support. You can find this under WooCommerce > System Status, then the Theme section. You'll see a green checkmark next to WooCommerce Support.
If you have a theme you want to use with WooCommerce that does not have support yet, see: Third-Party Custom Theme Compatibility.
No zip file to upload to WordPress ↑ Back to top
Your browser or computer settings have automatically unzipped the file for you!
Re-download using another browser that doesn't auto-unzip, or
Right click on the folder, and select "Compress…, etc…" which creates a new zip file.
Then upload the zip file via Appearance > Themes > Upload.
Installation on a multisite ↑ Back to top
On a multisite install, WooCommerce acts as any other plugin. Each site in the network, although sharing a database, stores its information in separate tables. Thus, each site/store is a separate silos setup.
While you can network-activate plugins, such as WooCommerce and its extensions, you would be unable to share product databases, checkout, user accounts across sites in the network.
Only themes and plugins are shared across the network of sites.
Revert to a previous version of WooCommerce ↑ Back to top
We always recommend using the latest version of all plugins and extensions on your site for security reasons and to take advantage of any features and functionality currently available. This section is for guidance only.
To use a previous version of WooCommerce:
Disable and delete the current plugin.
Restore previous backup of WooCommerce database.
Download a previous version of WooCommerce under the Advanced View.
Upload the previous version under Plugins > Add New.
Activate the previous version of WooCommerce.
There is one big caveat to this — you need to check and see if the version of the WooCommerce database has been updated or not. More often than not, it will be with each version of WooCommerce, meaning you'll also need to restore the WooCommerce database from the previous version of WooCommerce to make sure everything works fine.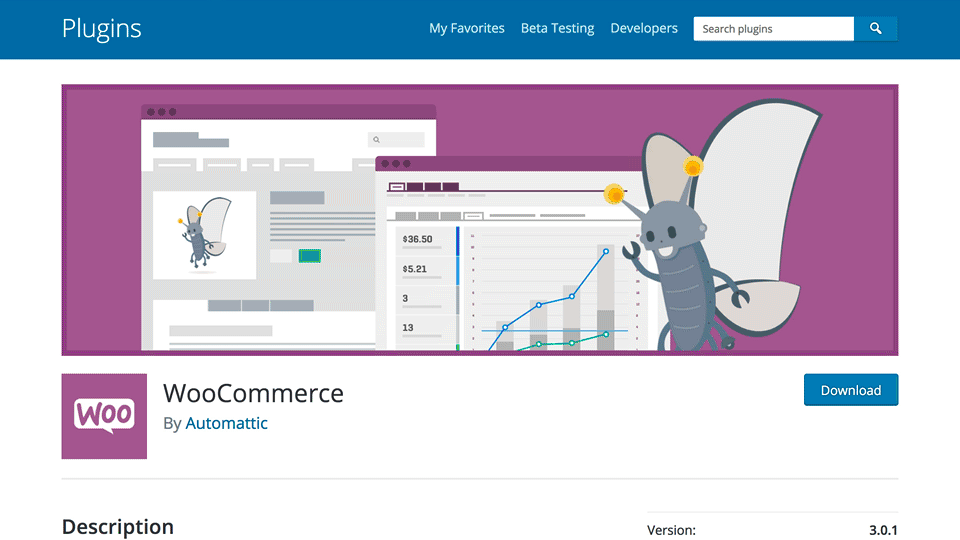 This is why we highly recommend you have a staging environment setup to test new releases of mission critical software like WooCommerce. See our docs on How to Update Your Site.
There are two things to understand when uninstalling or removing WooCommerce.
If you deactivate and delete the plugin from WordPress, you only remove the plugin and its files. Your settings, database tables, and pages created when first installed will still exist.
If you need to remove ALL WooCommerce data, including products, order data, etc., you need to be able to modify the site's wp-config.php file and add a constant and set it as true.

Open your site's wp-config file and add define( 'WC_REMOVE_ALL_DATA', true); on its own line above the /* That's all, stop editing! Happy blogging. */ line. Then when you deactivate and delete WooCommerce it will remove all of its data.