With WooCommerce Free Gift Coupons, you can give away a free item(s) to any customer with the correct code.
WooCommerce 3.1
PHP 5.6.20.
Download the .zip file from your WooCommerce.com account.
Go to: WordPress Admin > Plugins > Add New to upload the file you downloaded with Choose File.
Activate the extension.
WooCommerce Free Gift Coupons works very similarly to the other coupon types. Go to WooCommerce > Coupons and click on "Add Coupon" to create a coupon.
Under "General", change "Discount Type" to "Free Gift". An input called "Free Gifts" will appear. Start typing the name of the product that you'd like to give away until WooCommerce recognizes it, then you can select it.
Free Gift coupons follow all the same Usage Restriction and Usage Limits as other Discount Types, such as by email address, minimum cart total, etc.
When you are done configuring the Coupon, select publish and the Free Gift Coupon will now be active.
The coupon can be redeemed exactly like other coupons. When the customer enters the appropriate code and clicks "Apply Coupon" a small message is displayed saying the code was applied and the free gift is automatically added to the cart.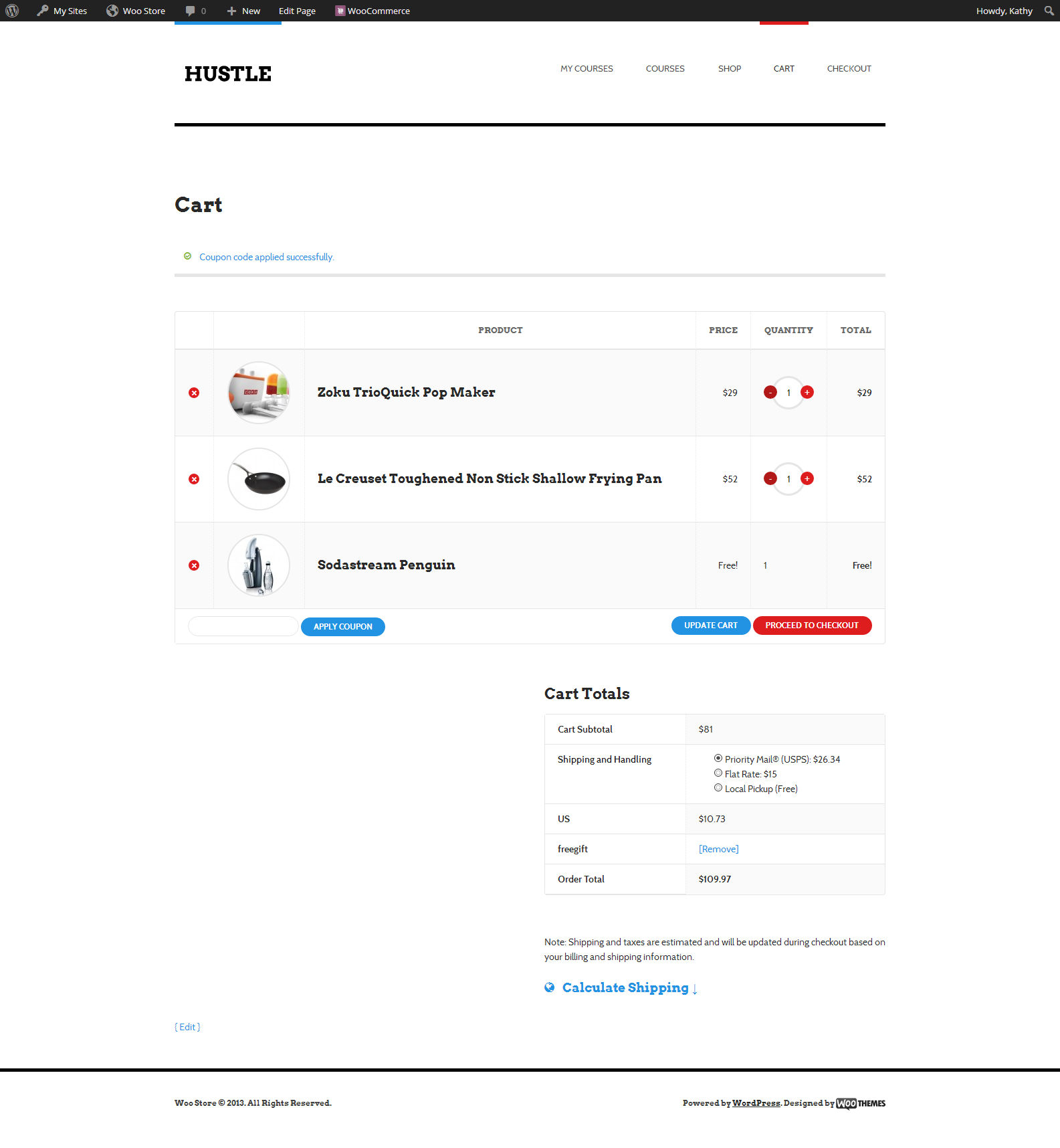 Can I give a gift if someone buys a certain number of items? For example, buy 9 'widgets' and get one free? ↑ Back to top
Currently, no. WooCommerce doesn't yet support usage limitations by item quantity.
Can I specify the number of items that can be given? ↑ Back to top
Currently, no. WooCommerce doesn't yet support limitation by item quantity.
Can customers choose their free gift between a selection of products? ↑ Back to top
No, all products registered with the coupon will be added to the cart for free after the coupon has been applied.
Are product variations supported? ↑ Back to top
Currently, no. While you can discount single products, you cannot specify variations of a single product.
Have a question before you buy? Please fill out this pre-sales form.
Already purchased and need some assistance? Get in touch the developer via the Help Desk.