A WordPress child theme is a theme that inherits the functionality of another theme, called the parent theme. Child themes allow you to modify, or add to the functionality of that parent theme. — WordPress Codex: Child Themes
Deli is a child theme for Storefront, the official WooCommerce theme. It features a texturised, tactile design, perfect for natural goods. It has an informal, natural and friendly aesthetic making it a good choice for stores selling handmade products as well.
To help set up your theme follow the documentation below and be sure to reference the Storefront theme documentation if you are not familiar with the main features/setup of Storefront.
As Deli is a Storefront child theme, you will first need to install and set up Storefront itself. You can read all about installing that over on our Installing & Configuring Storefront documentation.
Installing Deli follows the same process as installing Storefront. The only difference is that you search for "Deli" in the WordPress dashboard. Installing manually is done in exactly the same way, by uploading the Deli directory to your wp-content/themes directory.
Once uploaded / installed you can activate Deli by navigating to Appearance > Themes.
Please note: Deli is a Storefront Child Theme, meaning that the majority of Storefront Documentation applies to this theme as well.
Remember that Deli is a child theme and requires
Storefront
to be installed.
To setup the themes homepage page template this is covered in our Storefront Documentation in the section titled Homepage Template.
There are no specific image size requirements for Deli but we have provided the images sizes that we use on our demo installation below for reference.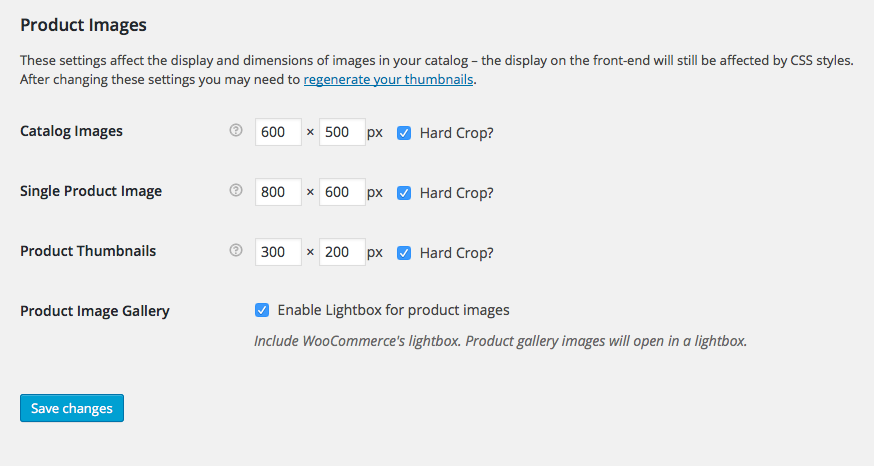 The original uploaded images are at a size of 1,024px in width by 748px in height before being uploaded. The WooCommerce image settings above can be located at WooCommerce > Settings > Products > Display.
Remember, once you update any image dimensions in WooCommerce you'll need to run the Regenerate Thumbnails plugin to regenerate all pre-existing thumbnails and re-crop them to the new sizes that you selected.
Note: For further information on the WooCommerce image sizes you can reference these two resources below.
To install some demo content for products as a starting point you can import the WooCommerce Dummy Data which will populate your site with demo products for you.
Note: We do not supply the exact images you see on our Deli demo within the WooCommerce Dummy Data as the sites images cannot be redistributed due to copyright restrictions and are for demo purposes only. The WooCommerce Dummy Data instead comes with our own unique unrestricted images that we can redistribute within product import data.
I'm using the Storefront Designer extension but noticed some settings are missing ↑ Back to top
Deli applies some specific styles to elements like buttons, so these settings are removed from the designer to avoid confusion.
I'm using the homepage template but don't want to display the the page title / content ↑ Back to top
If you don't want to display content simply don't add any. To hide the title you can use this plugin which gives you the ability to hide the page title on any page across your site.
I don't like how the content area is wider than the rest of the site, can I change that? ↑ Back to top
This is done so that the content aligns to the Storefront grid. However, it's easily changed. Just add the following to your custom css: