How To set up Store Finder For WooCommerce:
Download the .zip file from your WooCommerce account.
Go to: WordPress Admin > Plugins > Add New and Upload Extension with the file you downloaded with Choose File.
Install Now and Activate the extension.
Go to → Store Finder For WooCommerce.
Go to General Setting → Make changes as per your requirement
Click Save Changes.
This extension offers currency switching feature from default currency to the list of available currencies. Customer may utilize this feature at Donation from Page, Purchase Checkout, Purchase and Round off Donation, Donation from Widget.
Moreover this utility will be available at main shop page. If user will change the currency so all products will display the price in that selected currency. The exchange rate can be fixed from the backend by admin or it can be set by utilizing API that will fetch all the exchange rate in runtime will latest updates rates.
Admin can set multiple currencies from backend so that the frontend user can select his desired currency for transaction.
Admin can manually set fixed exchange rate of all the added currencies with respect to primary selected currency
Admin can set currency exchange rate option via API that will update the currency exchange rate on specified time interval.
Admin has an option to show the flag of countries with respect to currencies.
Admin has an option at backend to allow or un-allow the execution of purchase in selected currency by customer. If it is un-allowed from backend so whatever the currency has selected by customer, final payment will be made in backend default currency.
Admin can add currency switch option in widget.
Frontend User can change the currency on Shop page.
Frontend User can change the currency on cart page.
Frontend User can change the currency on checkout page.
Frontend User can change the currency after proceeding with purchase, donation, roundoff and lastly at checkout, the currency can be switched. By doing so, overall currency will get changed.
User can change the currency at donation from page or its checkout page.
User can change the currency at donation from widget or its checkout page.
This utility is integrated with Donation feature that can be utilized at Donation from page as well as Donation from widget.
First of all admin will install Currency Switcher Plugin and activate it then go to WooCoomerce
Tab> WCCS Settings so after that following screen will appear.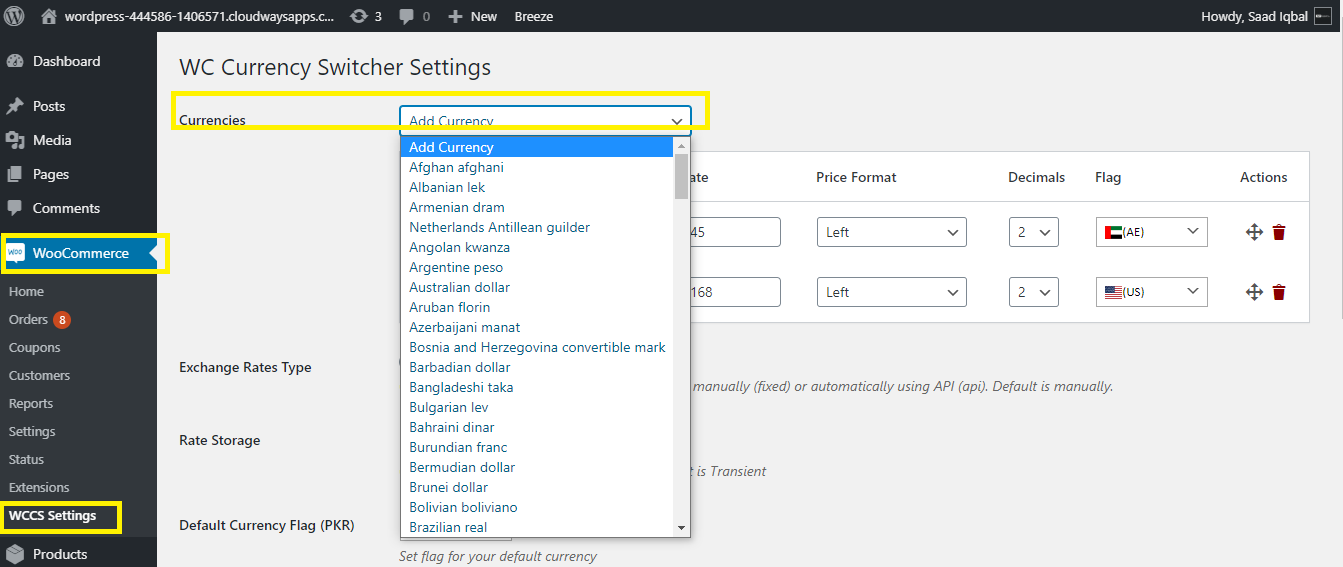 We need to select the currency which we want to add for multiple currency switches. For Example, I have selected 2 currencies from this dropdown list then it will get displayed like that.



As we can see that admin has set exchange rates manually, so the next point will show the fixed rates and rates fetched from API of alternate currencies.
Exchange Rate Feature with API ↑ Back to top
Here we can select the options if we want to get the exchange rate from API and it will vary as soon the rate gets change so it will automatically update the exchange rate in backend.

As we can see that by clicking on radio button for API we will get following options.
We have to give Exchange Rate API Key. To get the API key, we need to click on red highlighted get API key in above image and get registered by choosing whatever the package suits you. Or if you already have a key so insert that key on stated field.
Update Rate frequency
Send Email Notification to your Email address on every exchange update.
Exchange Rate Feature for Fixed Currency ↑ Back to top
Here the admin will select the desired currencies which he wants to get displayed and accordingly will set the exchange rates manually as shown in below image.
Therefore the default currency is GBP, so the exchange rates will be against 1 GPB.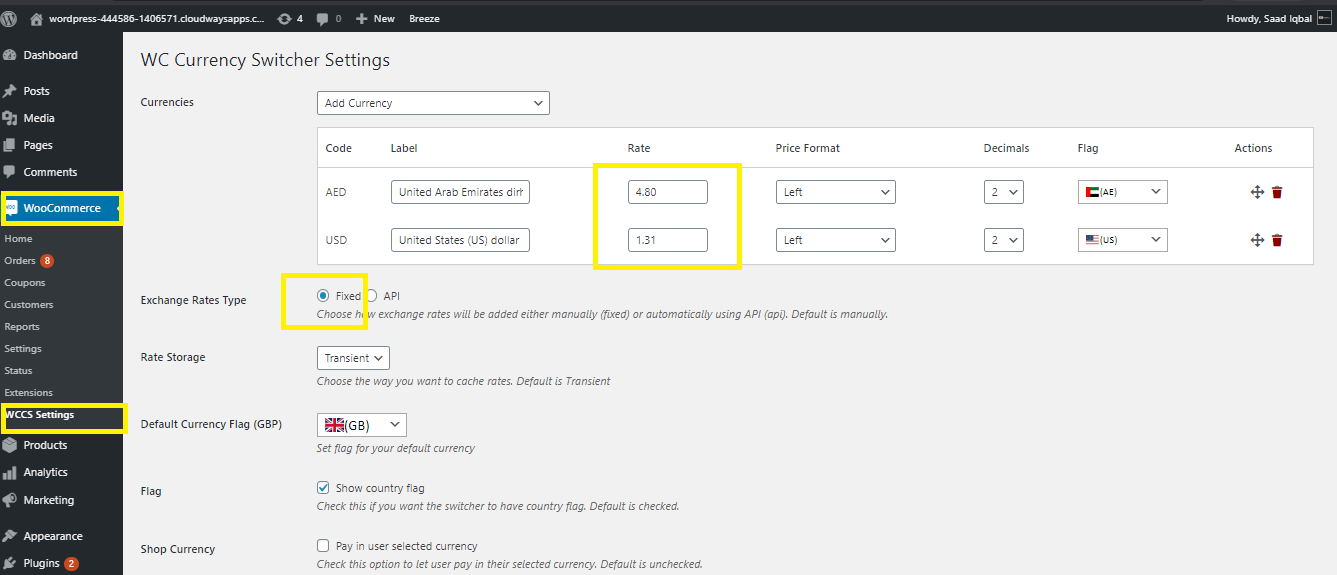 Default Currency and Related Settings ↑ Back to top
Here user can set following options: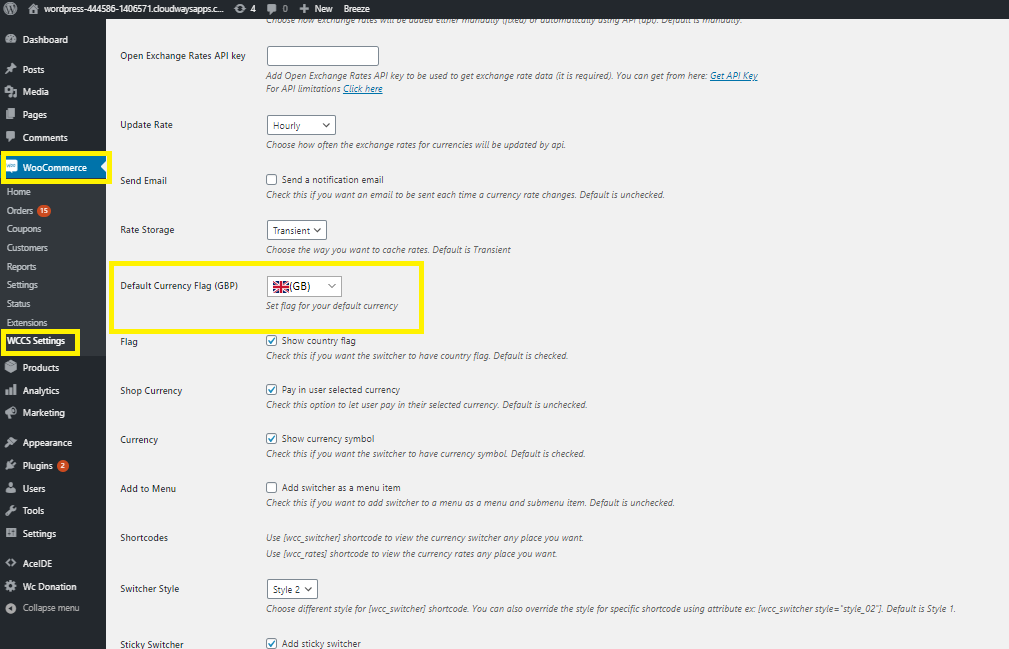 Default Currency will appear from the WooCommerce General Settings Option. This will be displayed on the top of listed currencies at front end.
Another option is Currency Symbol. Depends if we want to show it or not.
Another highlighted option is the styling option that we may change.
Here if admin has unchecked the radio button so whatever the currency customer will select to pay, it would always get the final checkout on default currency as shown in below image: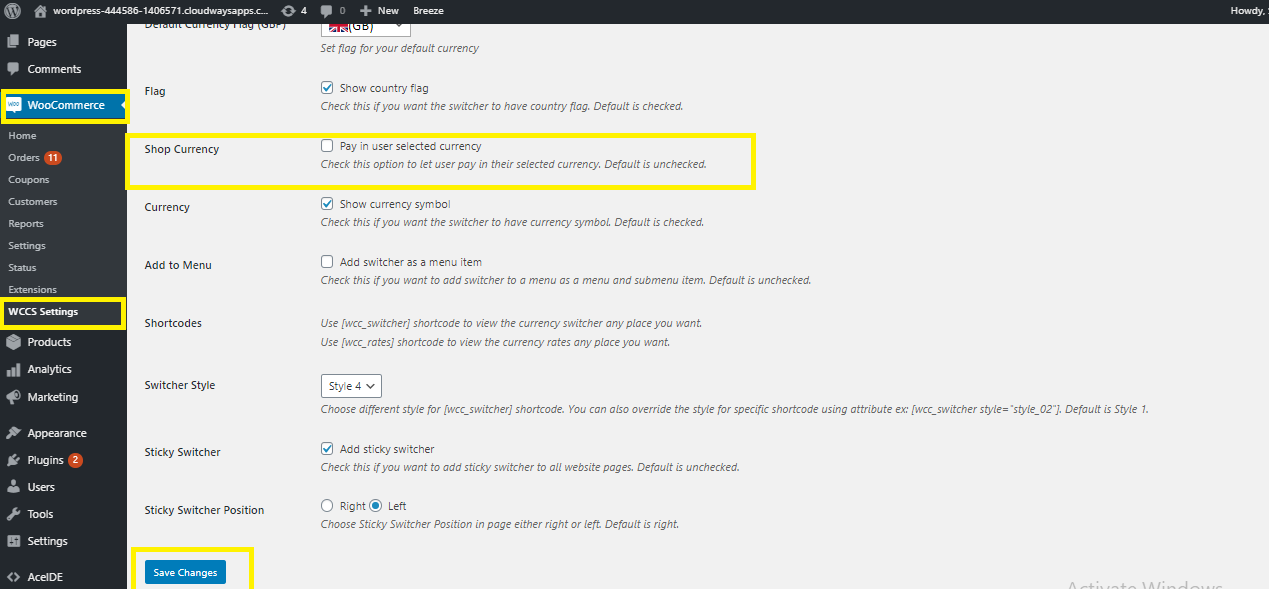 Impact can be seen at front end:
As customer has selected AED for payment but at the checkout we can see that the transaction was processed with GBP.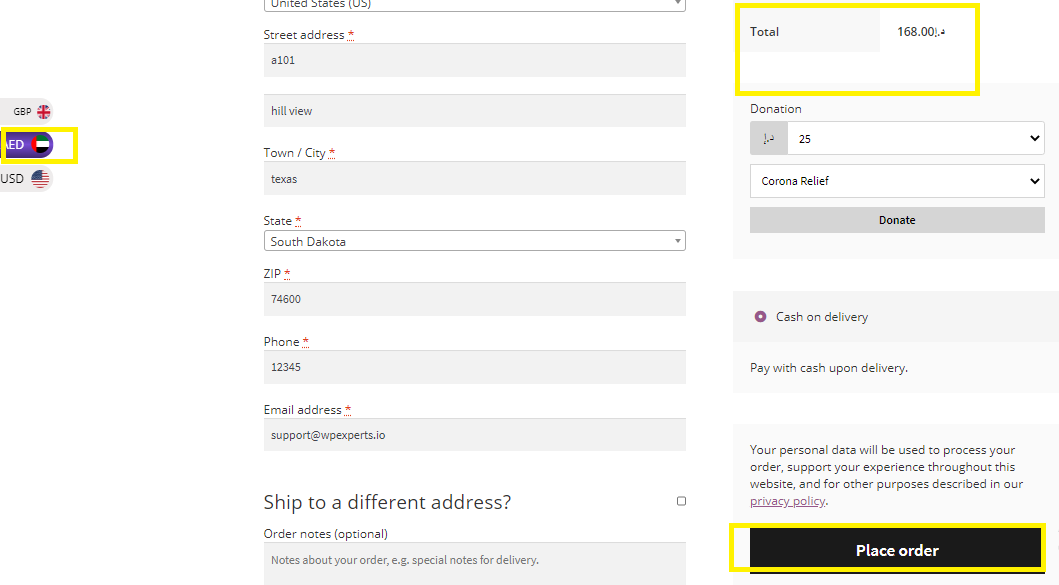 While if admin has checked mark this option than whatever the currency has been selected by customer, the payment will get done in same currency.
Front End View: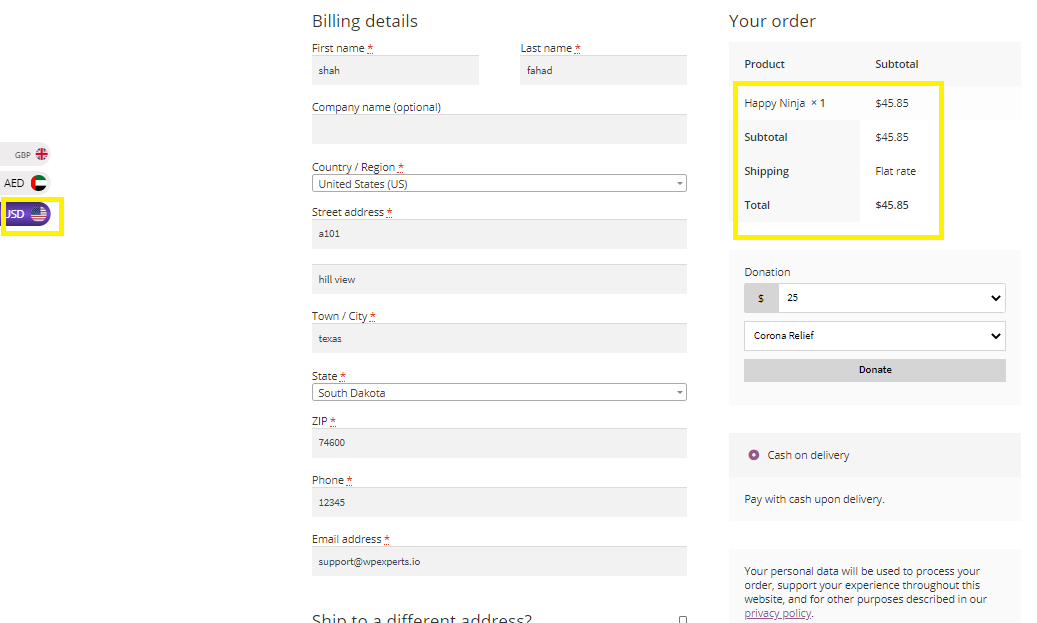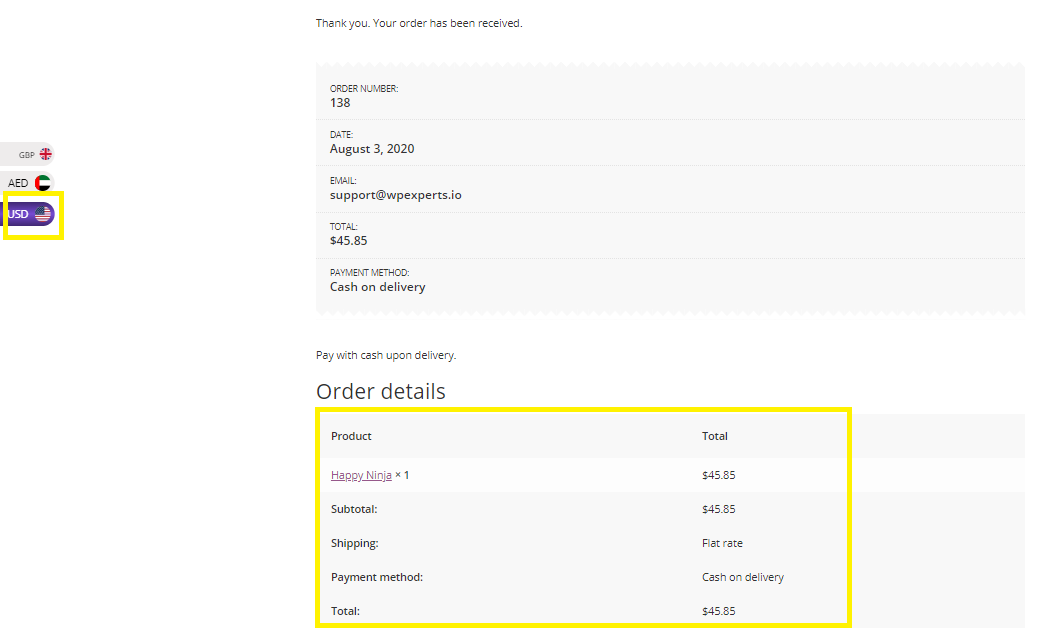 As we can see that user has selected USD as preferred currency and the payment was made in USD too.
ShortCode Utilization in Widget ↑ Back to top
We can utilize shortcode from specified location and we can add it any page so that currency switch option will get available there.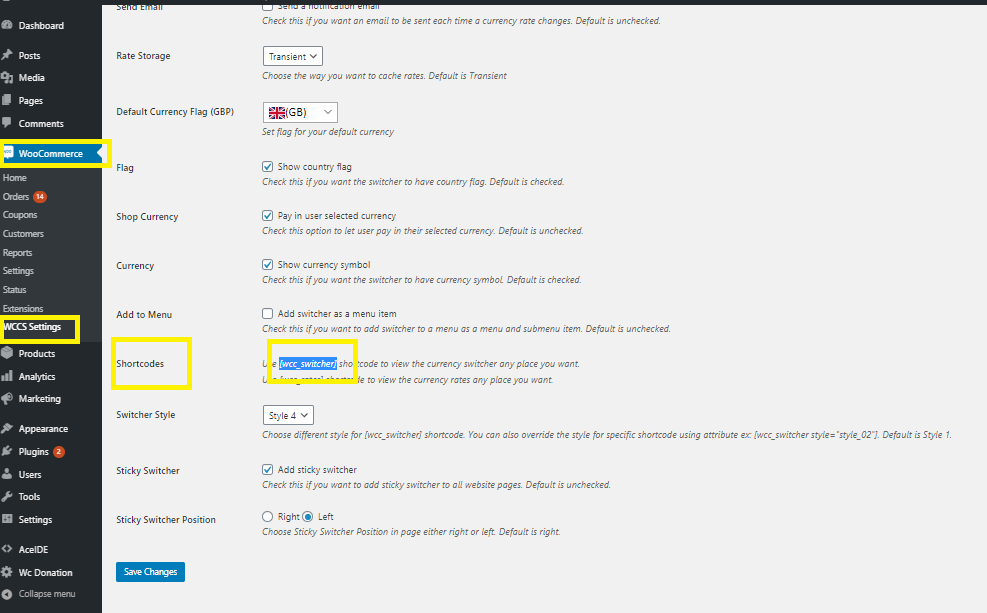 The highlighted copied code needs to be pasted here:






Impact on front end so that the currency can be replaced by any listed currencies: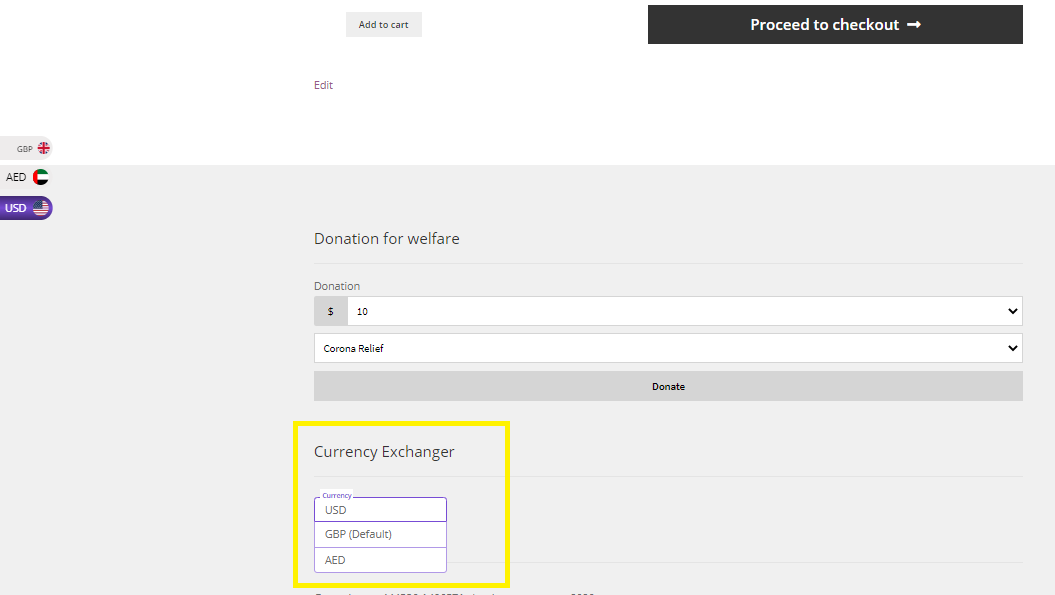 We can change the styling options too for the stated utility. For that following options needs to be utilized from backend: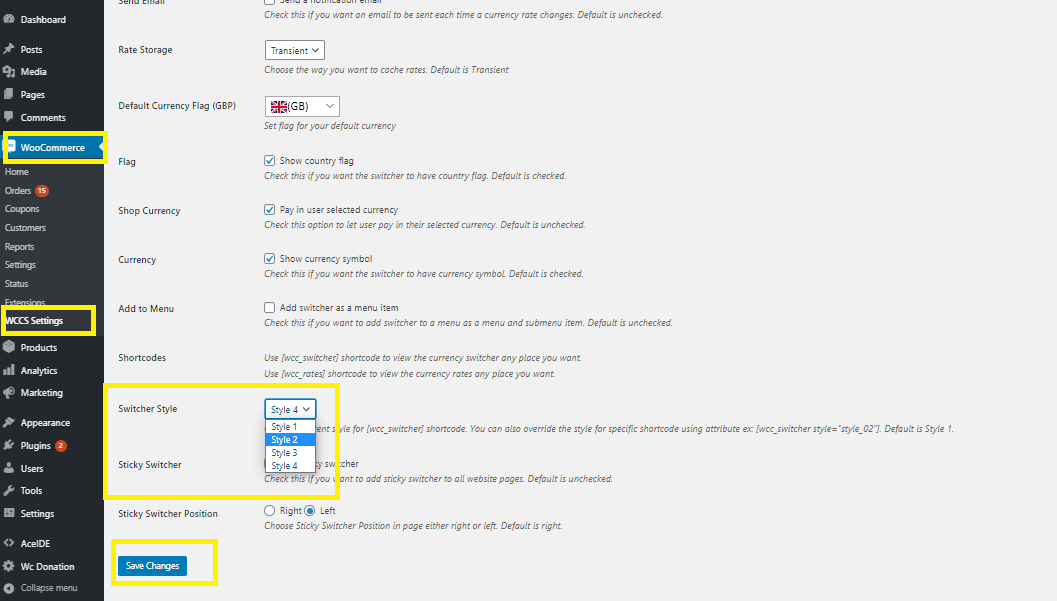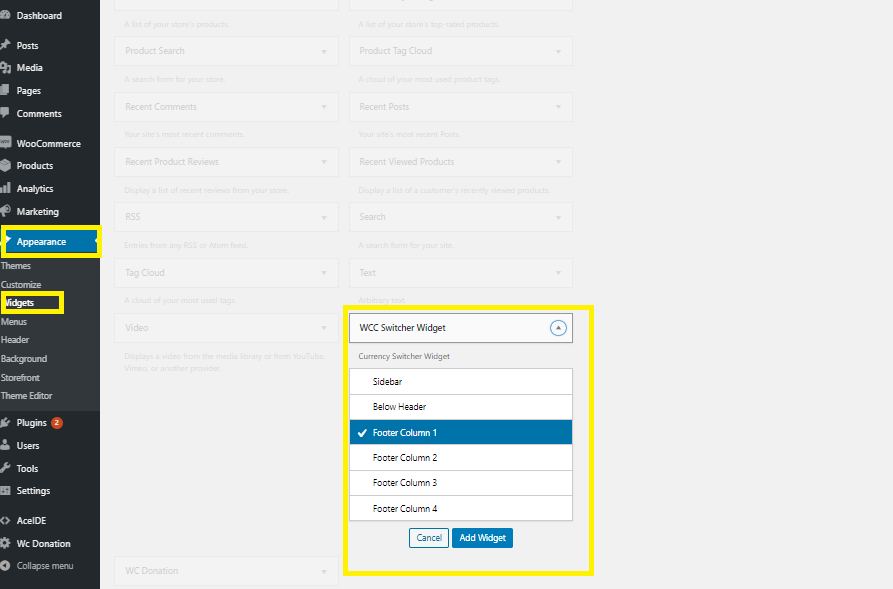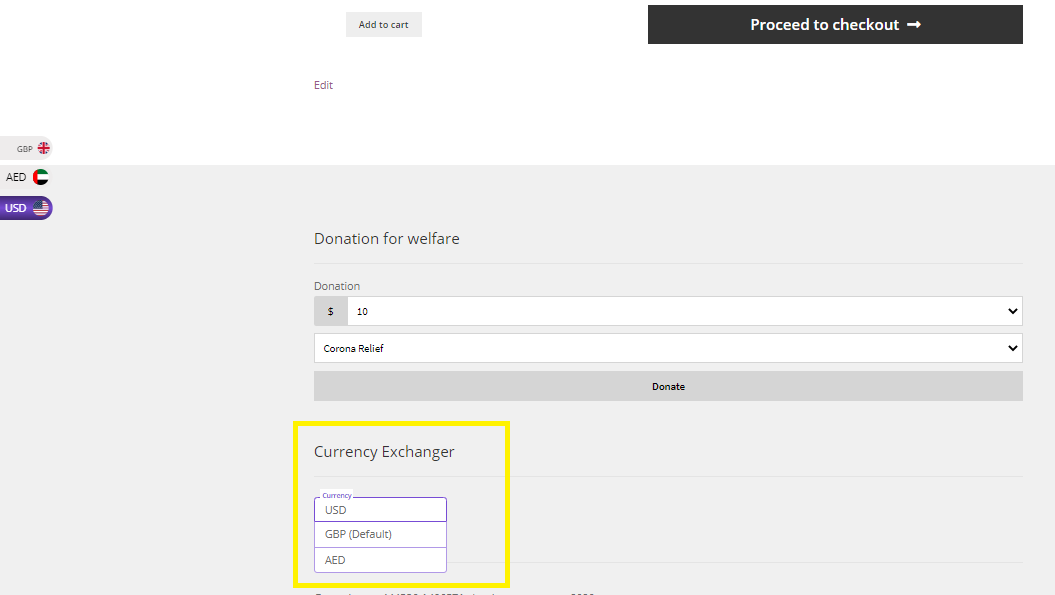 Switch Currency Display Option to Left or Right ↑ Back to top
Here we can switch the alignment that either we want to see the listed currencies at left side or right side.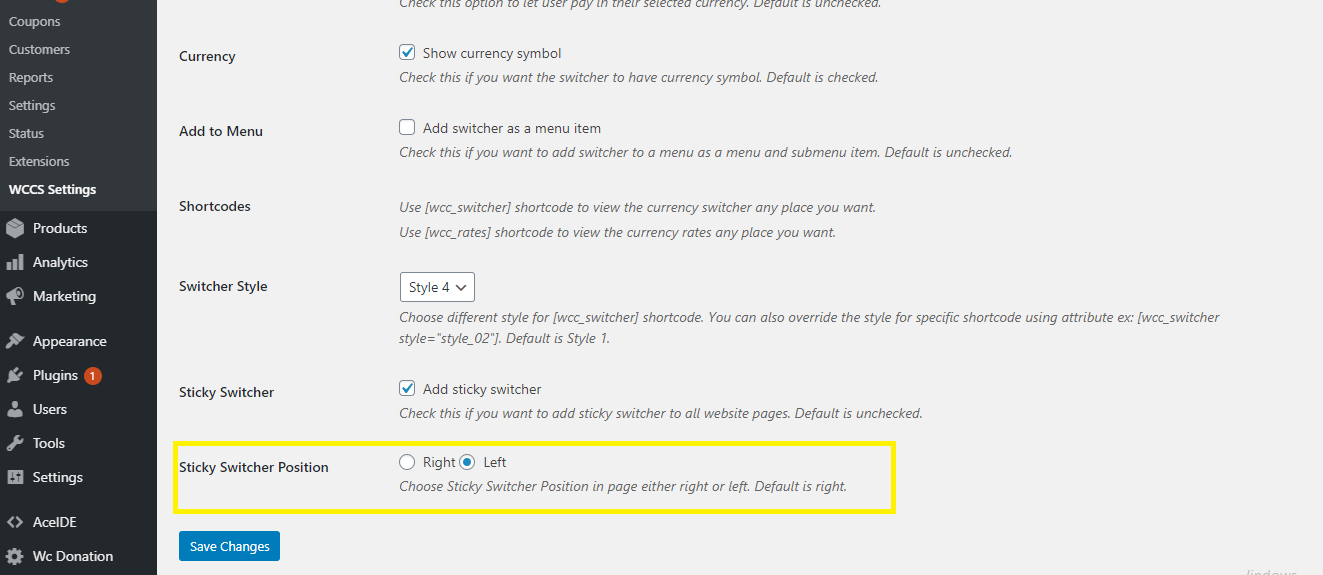 And that's what the impact on front end.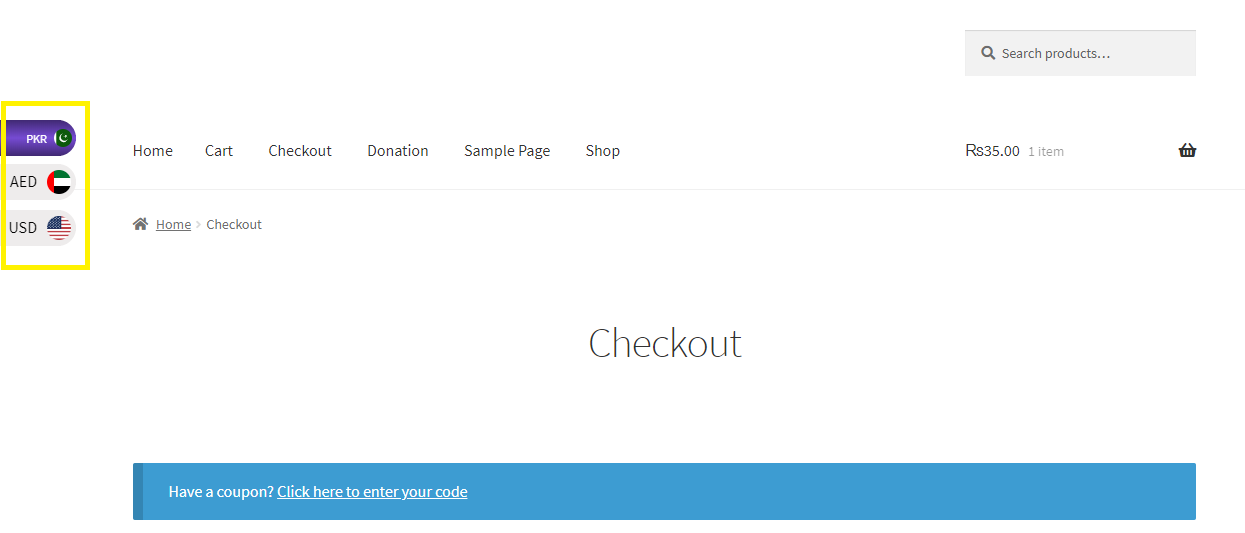 Purchase from Shop and Switch Currency in Cart ↑ Back to top
As we can see that the customer has added a product in his cart with default GBP currency while on cart page he has switched the currency to AED and it is impacting on runtime.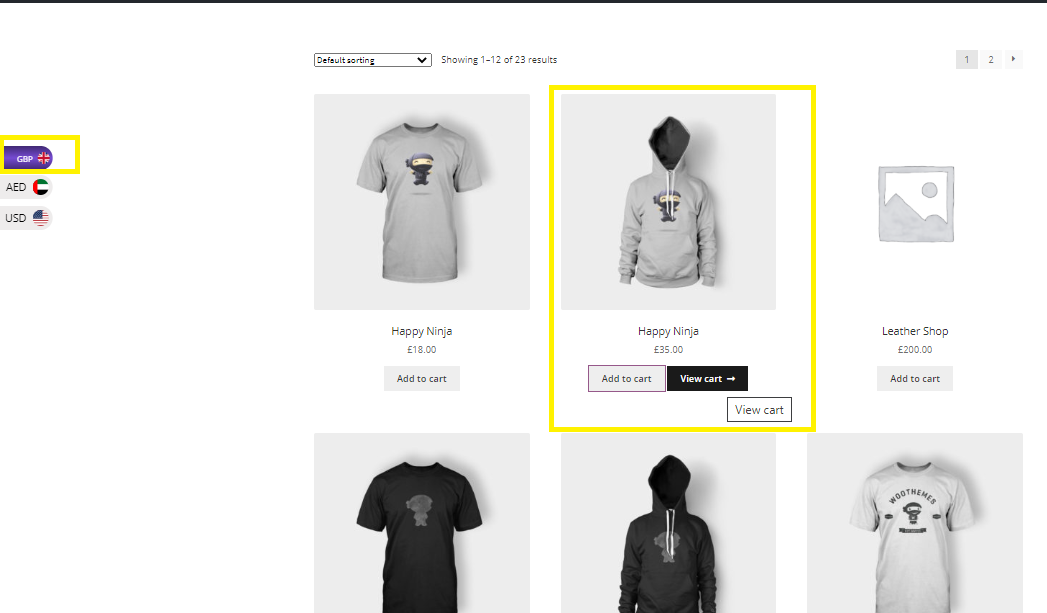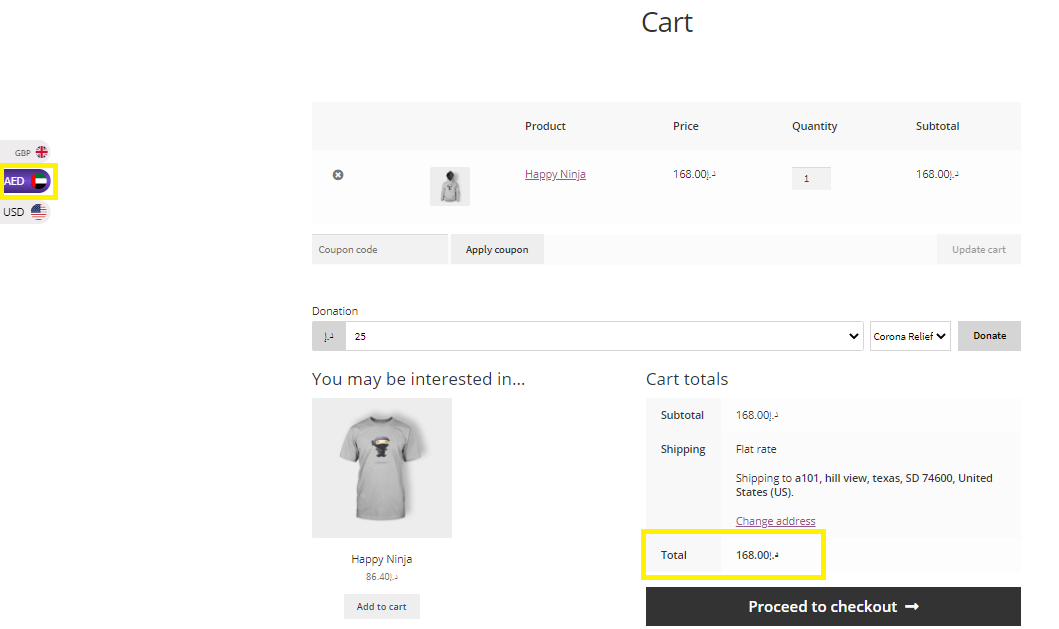 Payment was made in AED


Currency Switch from Donation Page ↑ Back to top
User went for a donation of 10 GBP with default currency




But at the time of checkout he swtiched the currency to USD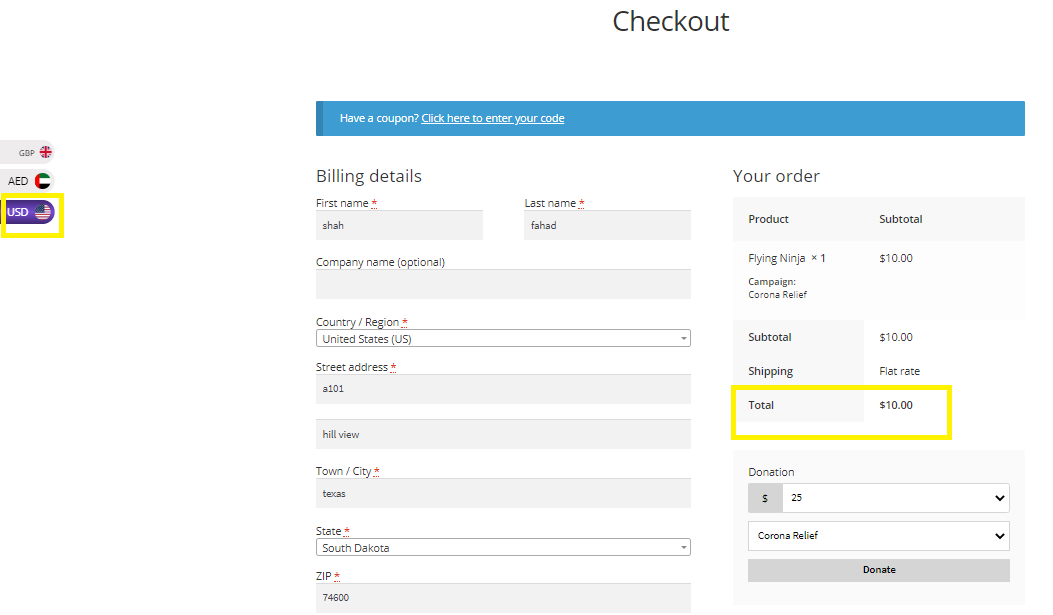 The donation was made in USD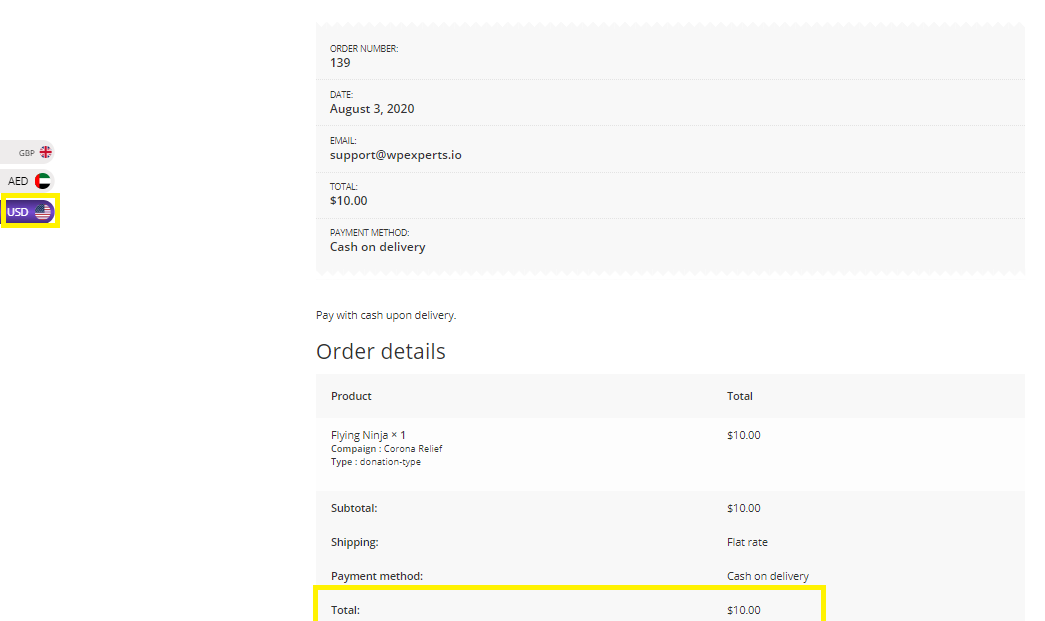 User selected by default GBP currency in widget to donate:



But on checkout option he switched the currency to USD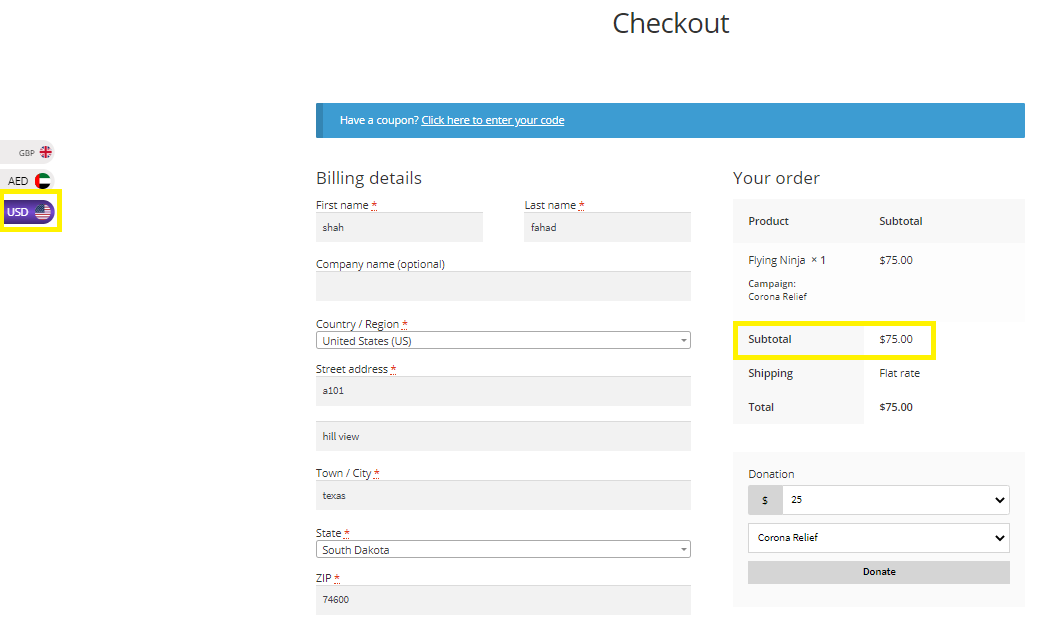 Payment was made in USD as we can see in below image


Currency Switcher at Round off Donation ↑ Back to top
Customer went for a purchase with default GBP currency

But at the time of checkout it gave me an option to round off the value by giving donation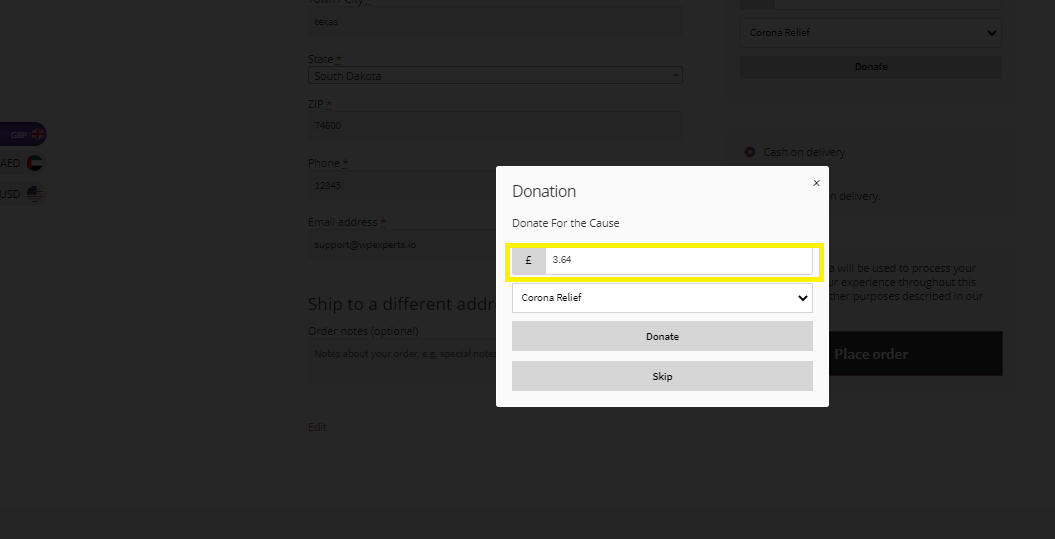 User changed the currency here:

The final transaction has processed with USD