This document lists some popular official extensions and free plugins that add new functionality to Product Bundles.
To install a free mini-extension:
Download it.
Ensure you have the latest version of WooCommerce and WooCommerce Product Bundles installed.
Go to WordPress Admin > Plugins > Add New.
Click Upload Plugin at the top.
Choose File and select the .zip file you downloaded in Step 1.
Click Install Now and Activate the mini-extension.
Important
: The free mini-extensions listed here are completely free to download and use. However, they are provided "as is", with absolutely no guarantees. They are provided for reference only, and are not covered under our
support policy
.
Product Bundles – Min/Max Items ↑ Back to top
Out of the box, Product Bundles do not include any options for limiting the total quantity of all bundled products. However, pick-and-mix functionality can be added to Product Bundles with the free Product Bundles – Min/Max Items mini-extension.
The mini-extension adds two new options under the Bundled Products tab: Items required (≥) and Items allowed (≤). These options allow you to define a lower/upper boundary for the combined quantity of all bundled items. For details, check out the Create Pick-and-Mix Bundles example, which utilizes the Min/Max Items mini-extension.
Alternatively, you can create quantity-constrained assortments of grouped products using the WooCommerce Mix and Match extension.
→ Download Product Bundles – Min/Max Items.
Product Bundles – Bulk Discounts ↑ Back to top
Add bulk discount rules to Product Bundles. Combines the best of rule-based pricing and product bundling to help you drive more revenue. Compared to rule-based discounts and coupons, bundles are:
Highly visible. Each Product Bundle is an individual WooCommerce product with its own catalog page, which can be shared or embedded using shortcodes.
Trackable. You can use WooCommerce product sales/earnings reports to find out how your bundles are performing.
Intuitive. Cart discounts and coupons work very well if your offers are easy to follow. However, bundles are more effective at communicating bulk discount offers, which are often limited to specific products.
Easier to set up. Rule-based discount plugins are harder to set up and require a higher up-front investment.
To add bulk discounts to a Product Bundle, first ensure that Product Bundles – Bulk Discounts is installed and activated. Then, navigate to Product Data > Bundled Products and use the Bulk discounts field to define multiple discount amounts, depending on the total quantity of chosen items. Each discount rule consists of two parts, separated by a pipe | character:
A quantity value or range of values, e.g. 1 - 5 ,
A discount value expressed in %, e.g. 10 .
Quantities can be entered in either:
quantity range format – e.g. 1 - 5 ,
single quantity format – e.g. 6 , or
"equal to or higher" format e.g. 7 + .
For example, consider this ruleset:
4 - 5 | 5
6 - 9 | 10
10 + | 15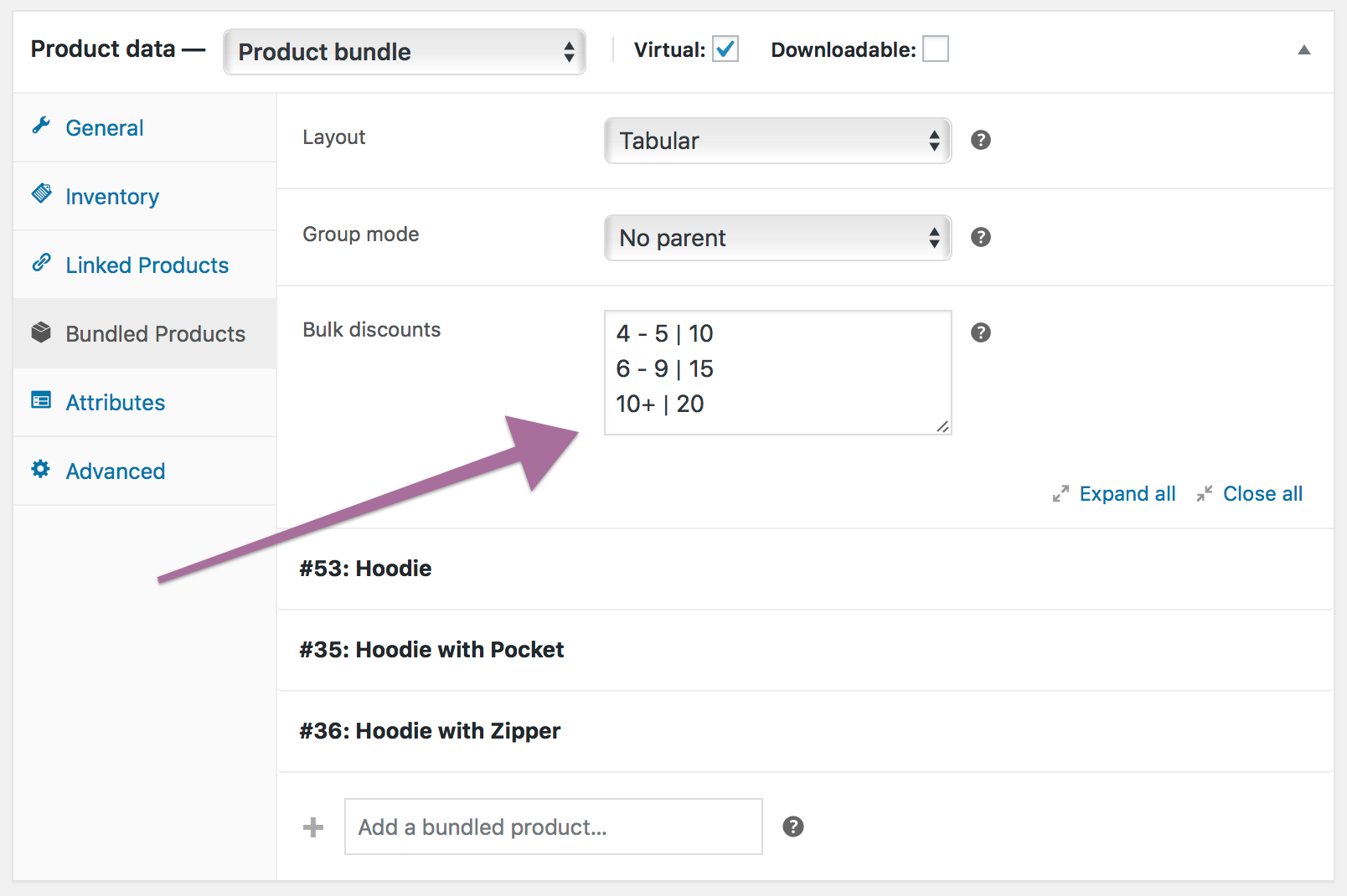 This means that:
If 4-5 items are chosen, the applicable discount is 5%.
If 6-9 items are chosen, the discount is bumped to 10%.
If 10 or more items are chosen, the discount goes up to 15%.
When a Product Bundle with bulk discounts is configured, the applicable discount is dynamically calculated and displayed, along with the subtotal and total after discount: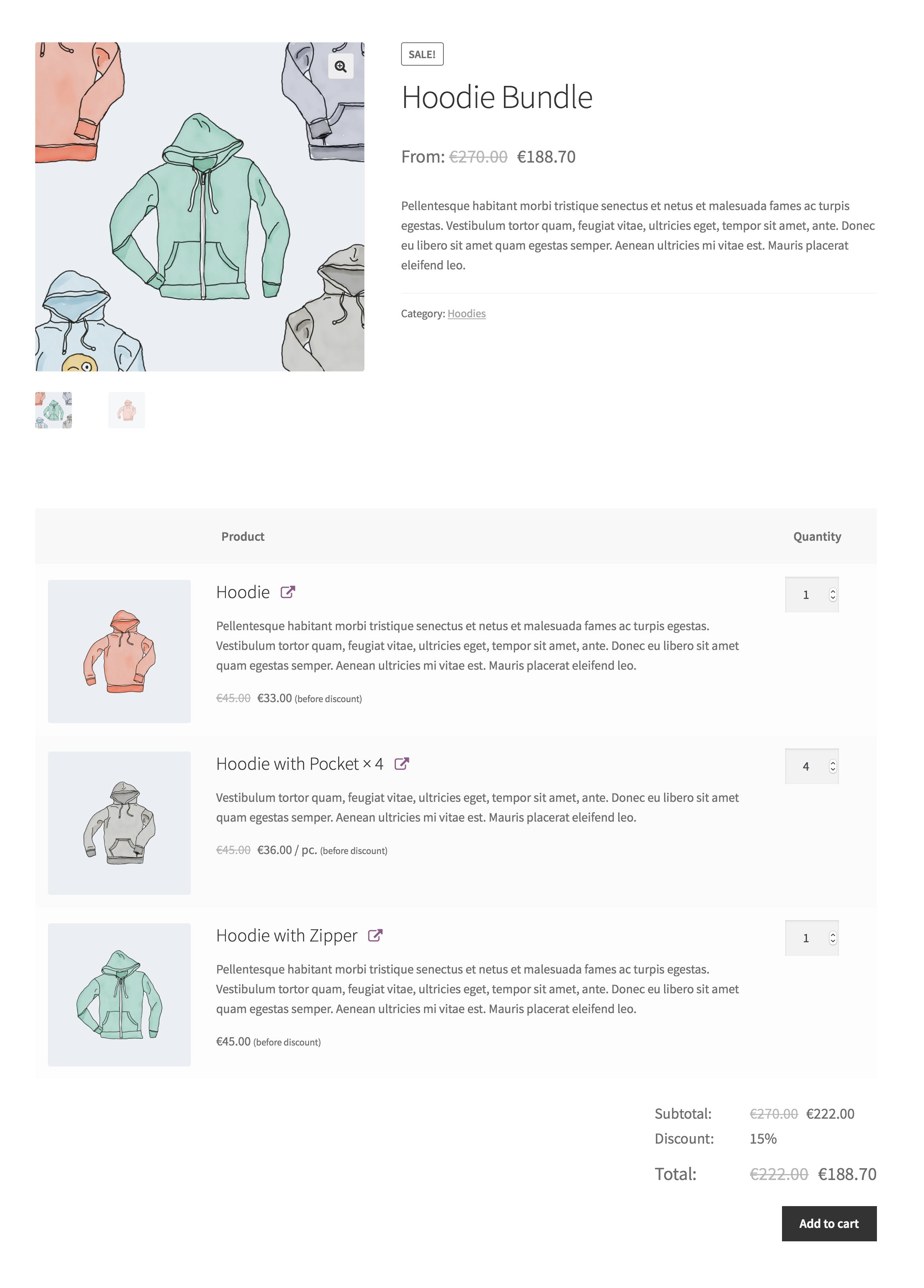 → Download Product Bundles – Bulk Discounts.
Use Product Add-Ons to offer more personalization options in Product Bundles. The extension allows you to add product options via text boxes, dropdowns, text areas, checkboxes, custom price inputs, and even sample images.
→ Purchase Product Add-Ons.
All Products for WooCommerce Subscriptions ↑ Back to top
Use it with WooCommerce Subscriptions to offer entire Product Bundles on subscription. Also allows you to:
Add subscription plans to Simple products, Variable products and Composite Products.
Offer subscription plans in the cart.
Let customers add products and carts to existing subscriptions.
→ Purchase All Products for WooCommerce Subscriptions.
Have a question? Please fill out this pre-sales form.
Already purchased and need assistance? Get in touch with us via the Help Desk!