Assistant is a WooCommerce store management extension that reduces manual work by automating routine tasks. Using a set of rules, it can schedule sales, tweak prices, run clearance events – all unattended.
Download the .zip file from your WooCommerce account.
Go to: WordPress Admin > Plugins > Add New and Upload Plugin with the file you downloaded with Choose File.
Install Now and Activate the extension.
More information at: Install and Activate Plugins/Extensions.
Go to the WooCommerce -> Settings -> Assistant.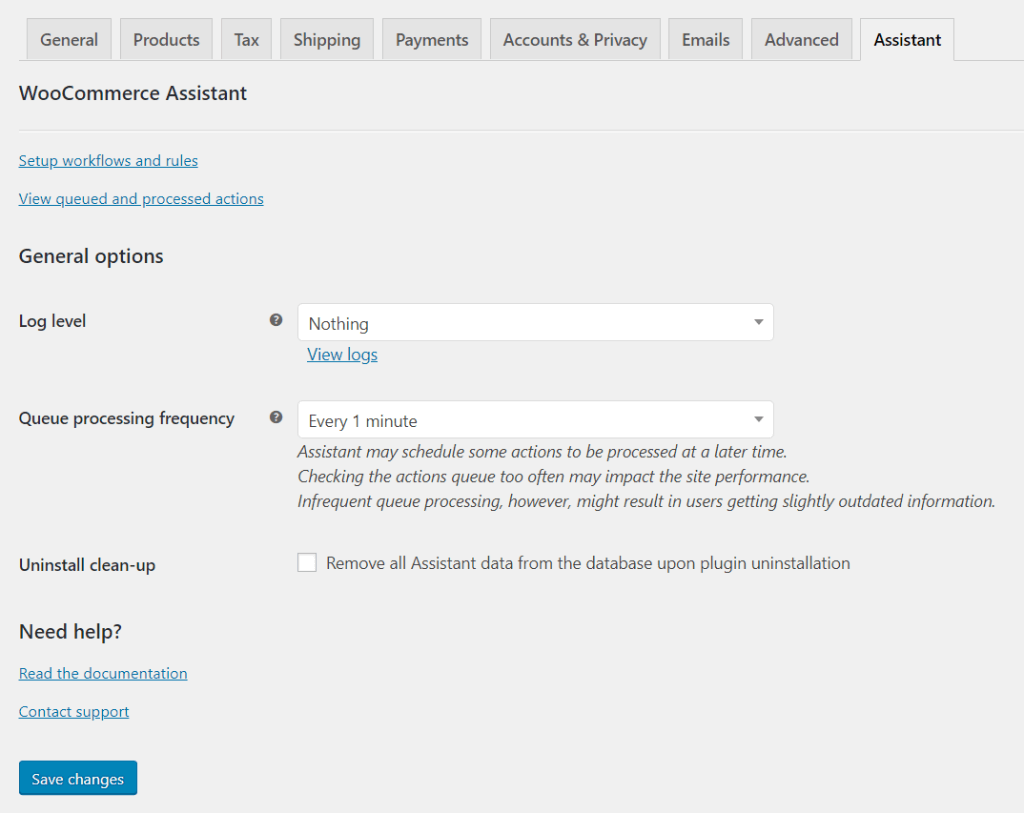 There are two main options:
Log Level: should be set to "Error conditions". Technical Support may ask you to switch to the Debug level temporarily.
Queue processing frequency: 1 minute is the default interval and normally should not be changed.
Other than those, the settings are specific to Workflows.
Go to the WooCommerce -> Assistant page. You will see the list of currently installed Workflows.
Click on a Workflow title to edit its settings.
In the "About this Workflow", you will see a short introduction explaining how it works and what are the Rule settings. For the "Low Stock Clearance", the options are "Threshold" and "Discount": what is the minimum amount of items in stock and which discount would you like to apply.
You can specify which product categories this Rule should apply to by using the product filters.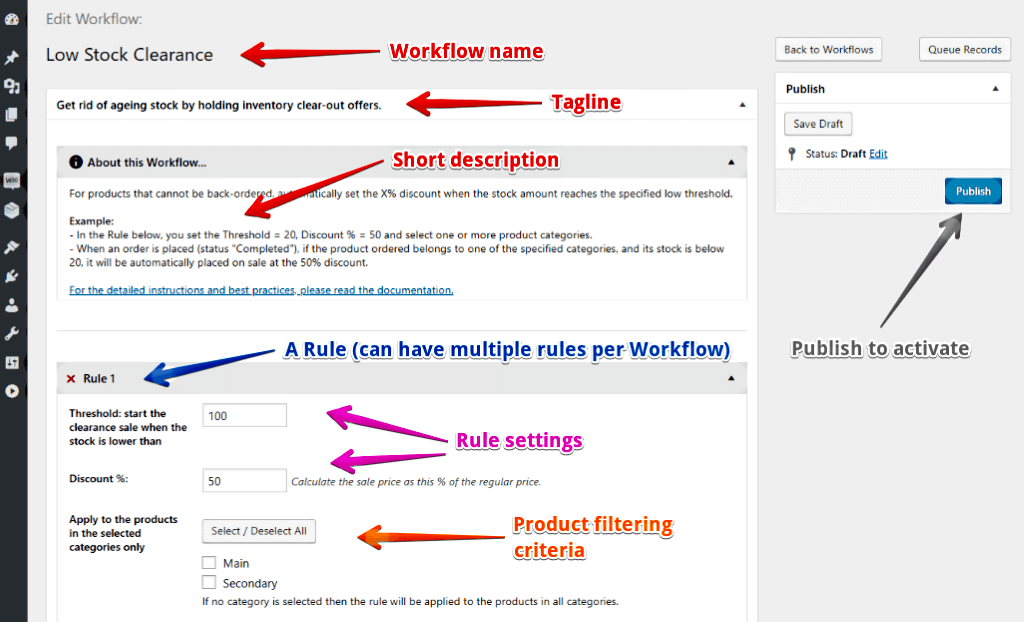 Below, you will see the "Notifications" section. Here you can select the users who will receive the email notification when the Workflow is triggered.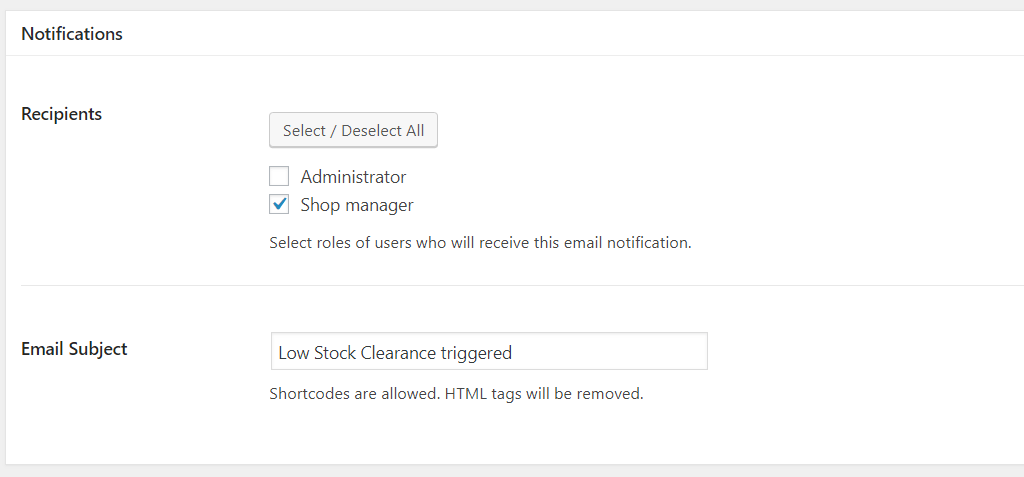 The email will look like this:
On the "Assistant Workflows" page, there is a "Records" tab. It will bring you to the "Assistant Queue Records" page.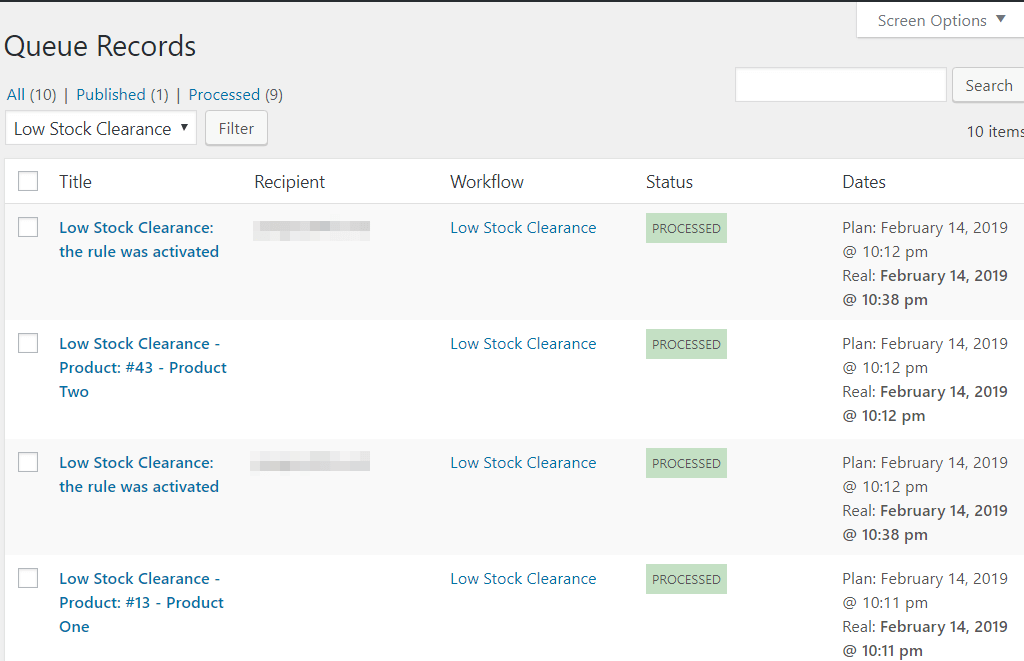 The "Queue" page shows a list of actions done by the Assistant, processed or scheduled. You can click on each one to see more details.
For convinience, we also placed a widget on the Dashboard showing the most recent Records.