Amazon Pay (formerly called Pay with Amazon and Amazon Payments Advanced) for WooCommerce take payments via special checkout page in your store powered by Amazon widgets. This offers a convenient way for Amazon users to pay using existing payment and address details.
It supports:
Recurring payments for WooCommerce Subscriptions (separate purchase)
Strong Customer Authentication (SCA) required for transactions within the European Economic Area (EEA)
Your store must be based in: Austria, Belgium, Cyprus, Denmark, France, Germany, Hungary, Ireland, Italy, Japan, Luxembourg, the Netherlands, Portugal, Spain, Sweden, the UK, or the US.
An SSL certificate. More info on how to get a free or low-cost SSL at: SSL and HTTPS.
An Amazon Payments Advanced Merchant account. Use an existing account or sign up for a new one with our extension. Note: This is not the same as a regular Amazon account.
Prior to starting setup, we advise signing out of all Amazon accounts if you are auto-logged in.
For a quick start video on getting setup with Amazon Pay for WooCommerce, please refer to the Amazon Pay University tutorial.
Download the .zip file from your WooCommerce.com account.
Go to: WordPress Admin > Plugins > Add New to upload the file you downloaded with Choose File.
Activate the extension.
More information at: Installing and Managing Plugins.
Go to: WooCommerce > Settings > Payments.
Select Amazon Pay & Login with Amazon. You are taken to the configuration screen.
Select store location from the Payment Region dropdown. This should also match the location of your Amazon Payment Merchant account.
Enable/Disable – Enabled by default. Disable to turn off Amazon Pay or when testing.
Select Configure/Register Now. This opens a new window and displays the Amazon Pay Merchant Registration screen.

Create your Amazon account: If you need to sign up for a new account.
Sign In: If you have an existing Amazon Pay Merchant account.
At the end of the Amazon Pay merchant onboarding process, click the Transfer Access Keys button to import your Amazon Pay credentials into WooCommerce.

Note: Automatic key exchange is not available for the Japan region. Please refer to the steps in Manual Key Exchange below to manually copy credentials from Amazon Seller Central.

Below are the different options you can customize for the Amazon Pay plugin:
Amazon account detailsNote: The Seller ID, MWS Access Key, MWS Secret Key, App Client ID, and App Client Secret fields are automatically populated after transferring keys during the Amazon Pay Account Setup steps above. Please refer to Manually Entering Credentials below if you had issues with key exchange during onboarding.


Use Sandbox: Select Yes from the dropdown to use for testing; no live payments are taken. You will need an

Amazon Pay Sandbox test account

to test transactions in this mode.
Subscriptions support: Select Yes from the dropdown if you wish to enable recurring payments for WooCommerce Subscriptions (separate purchase) after it's installed and activated.
2.  Advanced Configurations
Login Authorization Mode – Select how customers log in to their Amazon account on mobile devices.


Pop-up – The login form displays in a pop-up window.
Optimal – Customers using a desktop browser log in via a pop-up window. Smaller devices such as mobile phones are redirected to a page offsite to log in before being brought back to the checkout.Note: If you are upgrading an existing plugin and change your Login Authorization Mode to Optimal, you must go through the Amazon Pay Account Setup steps again, or follow

the instructions

to set the Allowed Return URLs in your Amazon Seller Central configuration.

Payment Capture – From the dropdown, select how payments are handled.


Authorize and capture – Payments are automatically captured.
Authorize – Payment is automatically authorized, but you need to manually capture later.
Don't authorize – You need to manually capture and authorize payment. Useful for pre-orders.


Authorization processing mode


Optimal (recommended) – Triggers an asynchronous authorization in case the first synchronous attempt is declined for TransactionTimedOut. This option maximizes conversions. Note: Orders processed in Asynchronous mode are given status "On Hold" immediately after being placed; it changes to "Completed" or Canceled" within 24 hours.

Synchronous – Only select this option if your store cannot handle asynchronous order processing.
3. Display options

Cart login button display: Select Button, Banner or Disabled from the dropdown.
Button type: Select what is displayed on button – Login with Amazon, Login, Amazon Pay, Pay, or Amazon Pay Logo.
Button size: Small, Medium, Large, X-Large.
Button color: Gold, Dark gray, Light gray.
Button language: Select – Detect from buyer, UK English, German, French, Italian, Spanish.
Standard checkout button: Check the box to hide button on the cart page.
4. Miscellaneous

Debug: Check the box if you wish to log errors. Helpful for troubleshooting. Otherwise, should be disabled.
Hide button mode: Check the box when troubleshooting, so customers cannot check out.
Amazon Pay supports multi-currency transactions in WooCommerce.
Amazon Pay for WooCommerce has been enhanced to detect the installation WooCommerce multi-currency extensions and to enable Amazon Pay multi-currency transactions.
Compatible with: 
When Amazon Pay and a WooCommerce multi-currency extension are activated, compatibility is detected and, if applicable, options are shown on the Amazon Pay Settings page under the Miscellaneous section.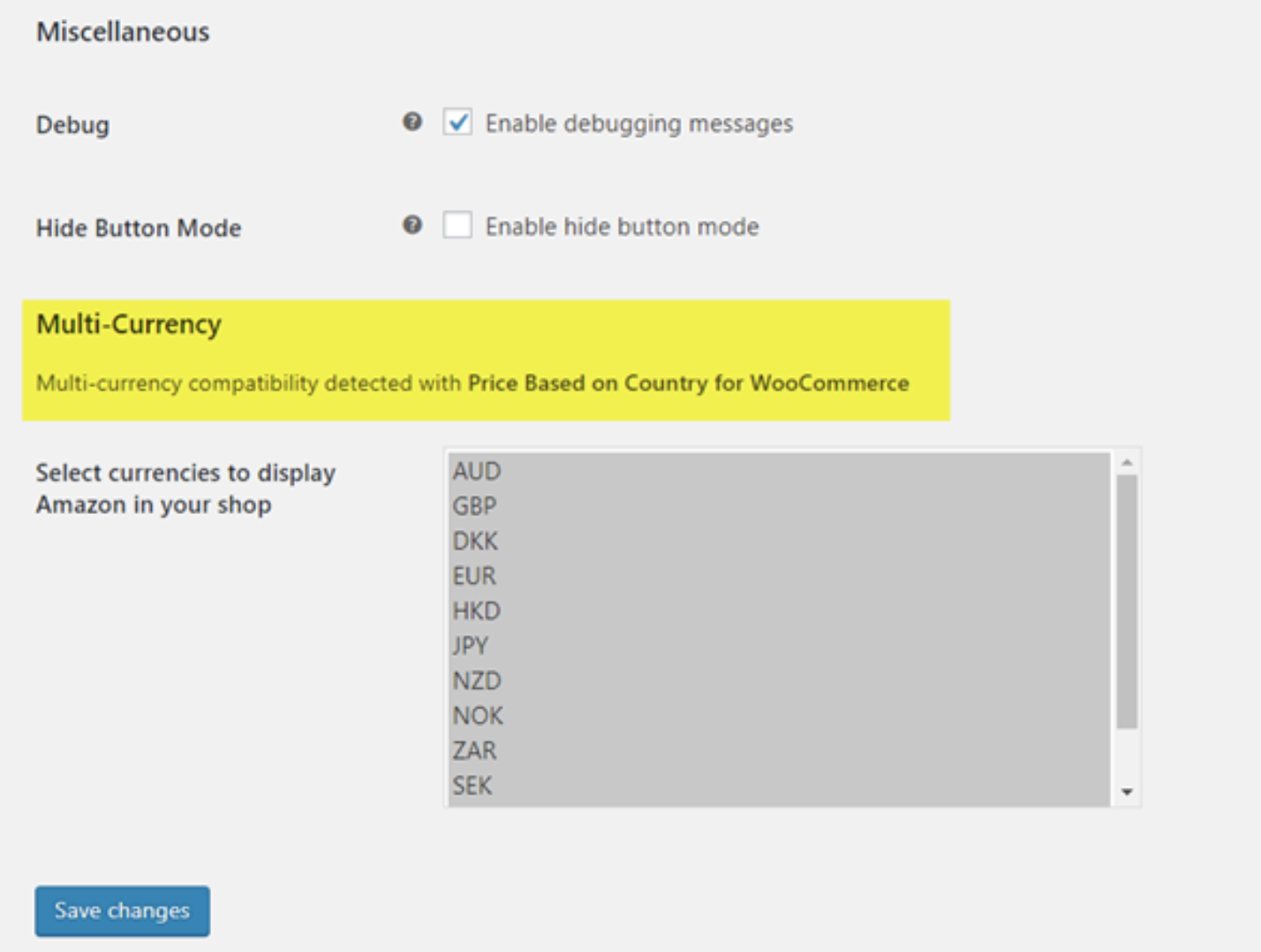 Note:
Not all multi-currency plugins show a list of supported currencies like the one above. Should a list appear, select all currencies configured in your store that you would like to offer for Amazon Pay as a checkout option.

Not all WooCommerce multi-currency plugins provide a currency conversion on an API level. Some, such as Currency Converter Widget display a "visual currency conversion only" without passing the value to Amazon Pay for order processing. In such cases, the price shown to the buyer will be in their currency, but the order is processed in your store's currency.

Some multi-currency plugins, such as WooCommerce Currency Switcher, provide both options (display and conversion). In this case, it's possible to select a "visual currency conversion" only or activate the currency conversion. The latter will activate the Amazon Pay multi-currency feature.
To pay using Amazon Pay, customers need to first sign in with their Amazon account.  They can do this from two places.
On the cart page, customers see the Amazon Pay button next to the regular checkout button or a banner above the cart items: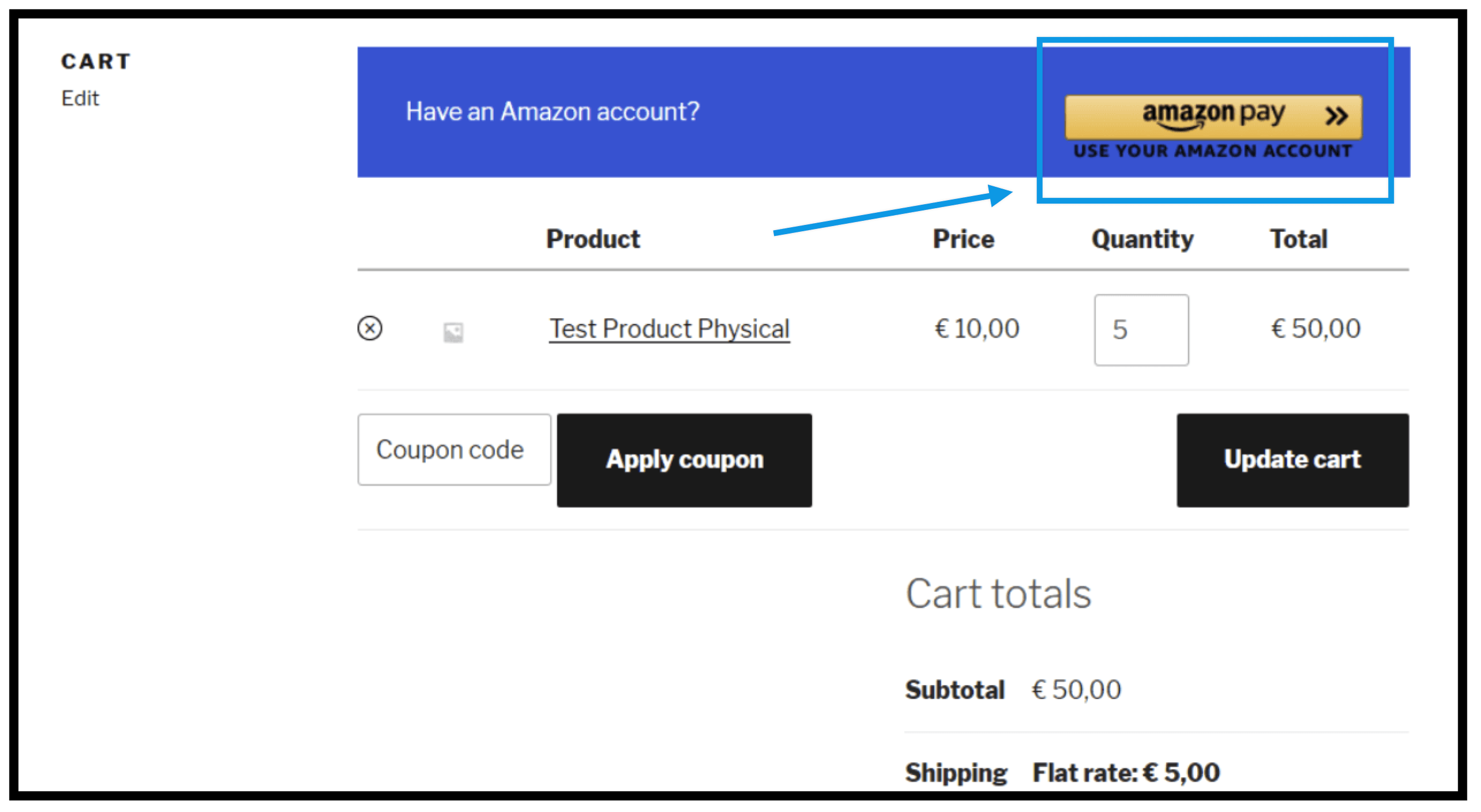 On the regular checkout page, customers see a banner asking if they want to checkout with Amazon Pay:

Signing in
Buttons trigger an Amazon sign-in window.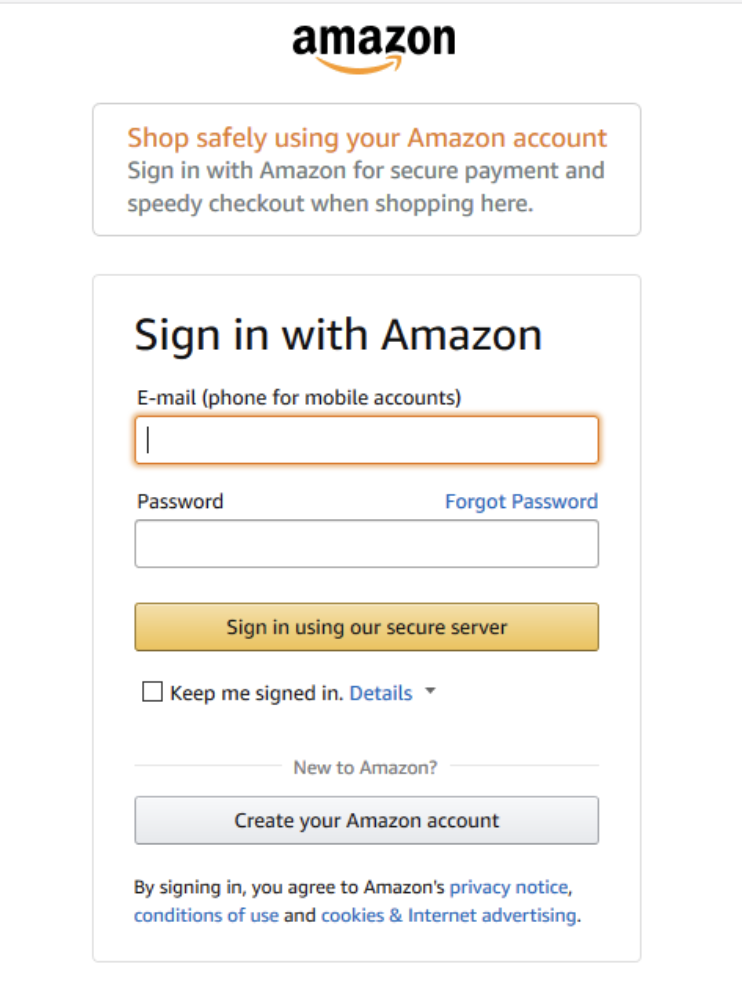 After signing in, the customer is redirected to a special version of the checkout that shows Amazon Pay widgets.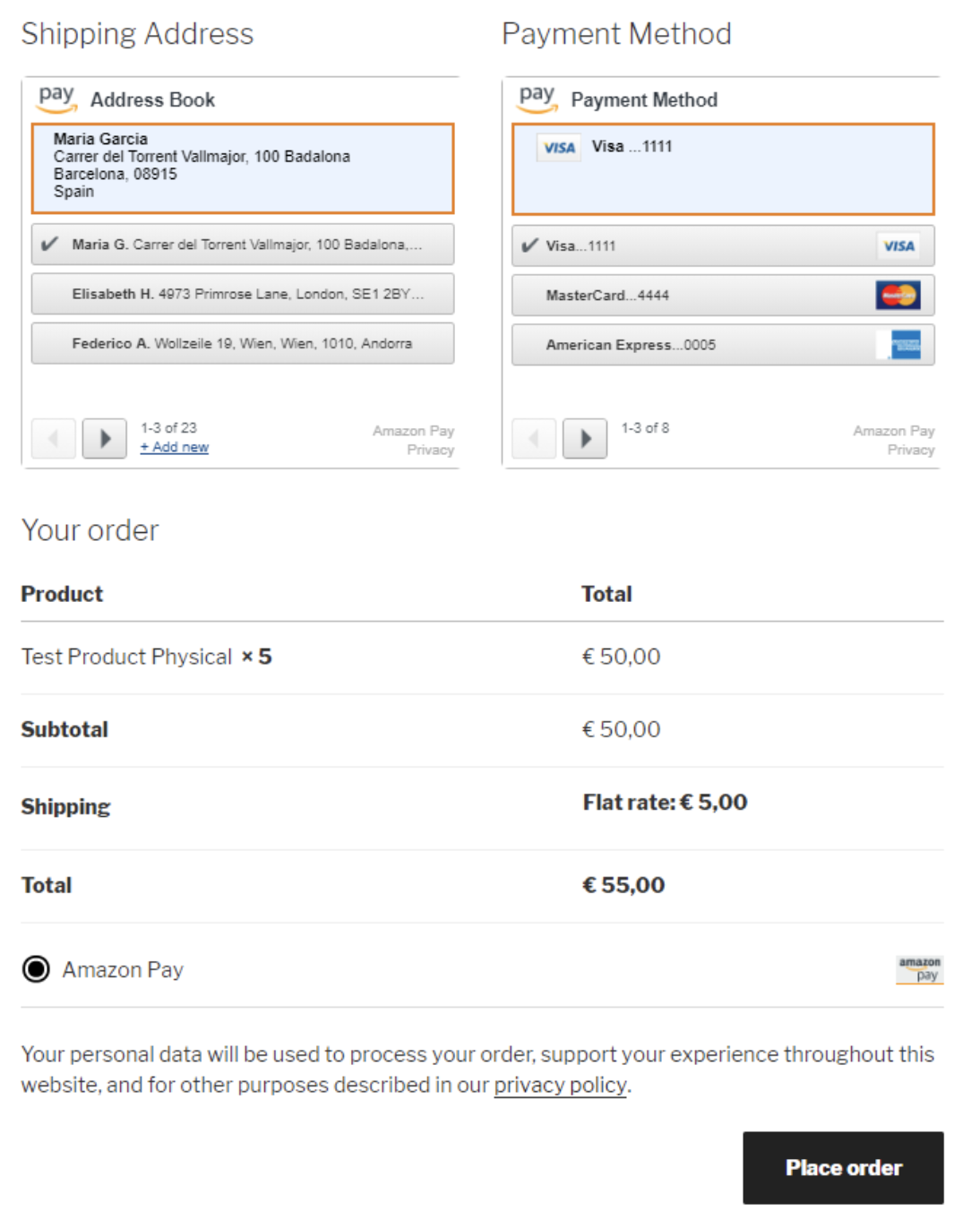 Customers choose their desired shipping address and payment method, and this refreshes the WooCommerce order totals as usual.
They then select Place Order. This creates an order in WooCommerce for you to process.
Should your customer be in the European Economic Area (EEA) where SCA is a requirement, they will be presented with a Multi-Factor Authentication (MFA) challenge after placing an order.
Three results are possible:
Success

: Allows customer to continue with the charging process.

Failure

: Does not allow customer to continue with the charging process. The order is created and cancelled.

Abandoned: Does not allow customer to continue with the charging process and returns to the Checkout page. The order is created and stays in "Pending Payment" status.
Admin Order Fulfillment Flow ↑ Back to top
When you open an Amazon Pay order within your WooCommerce admin, you will see an order fulfillment flow widget that allows you to make different actions based on the order status.
Order fulfillment widget for an order that has not been authorized.
Order fulfillment widget for an order that has been captured.
This widget allows you to perform the following actions:
Authorize – Authorize a payment but do not capture. Amazon recommends capturing payment once you have verified the order and begun processing it.
Authorize and Capture – Capture funds for the full order total amount.
Capture – Capture an authorized payment. Amazon recommends capturing payment once you have fulfilled the order.
Close authorization – Close an authorization and release funds without capturing.
Refund – If you captured a payment that is still open, you can refund X amount.
After each action, an order note is created, noting the status.
Amazon has some functionalities available through REST API, as of version 1.6.0. View endpoints, filters, parameters and examples on GitHub at: Amazon Pay REST API.
Other Developer docs for Amazon Pay can be found at: Amazon Pay – Developers.
Frequently Asked Questions ↑ Back to top
Will this gateway work with X extension that modifies the WooCommerce checkout page? ↑ Back to top
Generally, no. Amazon Pay uses its own forms for payment and shipping, so plugins that add or modify the WooCommerce checkout may not work in these cases. As of version 1.6.0, compatibility with extensions that modify the checkout page has been added for:
Can I use Amazon Pay/Pay with Amazon/Amazon Payments Advanced with WooCommerce Subscriptions? ↑ Back to top
Yes, with limitations. This Amazon integration supports recurring payments with WooCommerce Subscriptions (separate purchase), but totals cannot be modified. More info at: Subscription Payment Methods & Gateways.
Where should I go to view my Amazon account balance? ↑ Back to top
To view your Amazon Payments Seller account balance, visit Seller Central.
Note that when initially signing up, you need to use the link in the Amazon Pay plugin settings (WooCommerce > Settings > Payments > Amazon Pay) to ensure you're signed up for the correct Amazon program.
Where can I find Amazon Pay Merchant credentials? ↑ Back to top
Go to Seller Central (links above), log into your account and go to: Integration > MWS Access.
Is Amazon Pay available in other languages? ↑ Back to top
Yes. Check out translations already done or in progress for Amazon Pay (Pay with Amazon/Amazon Payments Advanced) on GlotPress.
My Amazon Pay button is greyed out. Why? ↑ Back to top
If your Merchant account is in 'suspend' status, the Amazon Pay button on your site is greyed out, preventing customers from using this payment method. On hover, the error message "Amazon Pay is not available for this purchase. Sorry for the inconvenience" will display.
You need to log into Seller Central and follow the notifications to fix your account status with Amazon, or contact Amazon Merchant support for assistance. The button will be re-activated once the Merchant account returns to active status.
My Amazon payments widgets look stretched or distorted on my mobile device. How do I resolve this? ↑ Back to top
Stretching or distortion of Amazon payments widgets when viewing your website on a mobile device is largely due to the WordPress theme you're using. It may add padding around the widgets, causing the irregular display.
To fix, add the following CSS code to "style.css" in your child theme; or the "style.css" file in your parent theme if you're not yet using a child theme:
Manually Entering Credentials
If you experienced issues transferring your access keys during Amazon Pay merchant onboarding, or if you'd like to manually enter your credentials from Amazon Seller Central, you can follow these steps:
Login to

Amazon Seller Central

Go to Integration -> MWS Access Key

3. Click the Copy your keys button

4. Copy the full text within the Copy your keys popup
5. In the Amazon Pay config within your WooCommerce admin, click the Paste your keys into the box text, and then paste the value copied from the above step into the textbox that appears

Click Save Changes
Shipping costs are missing ↑ Back to top
This can occur if the Hide Shipping Costs option is enabled. Disabling should solve the issue.
Go to WooCommerce > Settings > Shipping, untick the box, and save changes.

Error that "The above fields are required" ↑ Back to top
This is commonly caused by Company Name and/or Address Line 2 fields as required. Please go to Appearance > Customizer > WooCommerce > Checkout. Once there, set the Company Name and  Address Line 2 fields to either Hidden or Optional.
Have a question before you buy? Please fill out this pre-sales form.
Already purchased and need some assistance? Get in touch with a Happiness Engineer via the Help Desk.