Account Funds allows customers to deposit funds into their accounts, and use them to purchase items in your store with ease.
Using funds to pay for an order instantly sets the status to Processing because there's no need to wait for checks to clear and cards to be authorized. Store owners can reward customers for depositing and using funds by giving discounts.
Account Funds also works with partial payments and recurring payments for WooCommerce Subscriptions (separate purchase).
Download the .zip file from your WooCommerce account.
Go to: WordPress Admin > Plugins > Add New and Upload Plugin with the file you downloaded with Choose File.
Install Now and Activate the extension.
More information at: Install and Activate Plugins/Extensions.
Go to: WooCommerce > Settings > Account Funds.

Choose whether to give customers a discount when they spend account funds in checkout (optional).
Tick the Give Discount checkbox.
Select Fixed Price or Percentage from the Discount Type dropdown.
Enter a number value in Discount Amount. No symbol or percent sign is required.
Save changes.
For discounts to work correctly, coupons must be enabled in WooCommerce. You can find this setting in WooCommerce > Settings > Checkout
Choose whether to allow customers the ability to top-up in their My Account area (optional).
Tick the Enable My Account Top-Up checkbox.
Enter a number value for Minimum. Leave '0' if none.
Enter a number value for Maximum. Leave 'N/A' if none.
Customers are now able to add funds via the Top-up field on the My Account page.
Choose whether to allow Partial Funds Payments, so customers can use Account Funds to pay order totals in part and then use a payment gateway to pay off the balance.
The previous version of Account Funds used products to allow you customers to add funds to their account. This is still available.
Go to: Products > Add Product.
Select the name, description, price and select Account Funds Deposit from the Product Type dropdown.
Publish to save.
If your theme supports widgets:
Go to: Appearance > Widgets and drag the My Account Funds widget to any of your containers.
Use this shortcode to display in posts/pages:
 [get-account-funds]
Account Funds include reports that show the admin how many deposits have been made and total funds. To view reports, go to WooCommerce > Reports > Deposits.
You can see how much each customer has available.
Edit the account to add or remove Account Funds as necessary.
If the customer uses the top-up option on their My Account page, they are immediately taken to the cart page to pay for the deposit.
They check out, and the funds are added to their account once the order is marked Complete.
Customers can then use funds to pay for orders by clicking the button.
If funds in the user's account are less than the order total and the Partial Funds Payment option is enabled, a message appears a the top of the cart and gives them the option to Apply Account Funds.
If funds in the user's account are more than or equal to the order total, a message appears at the bottom of the cart and gives them the option to pay with Account Funds similar to a payment gateway. Discounts are applied automatically if enabled in settings.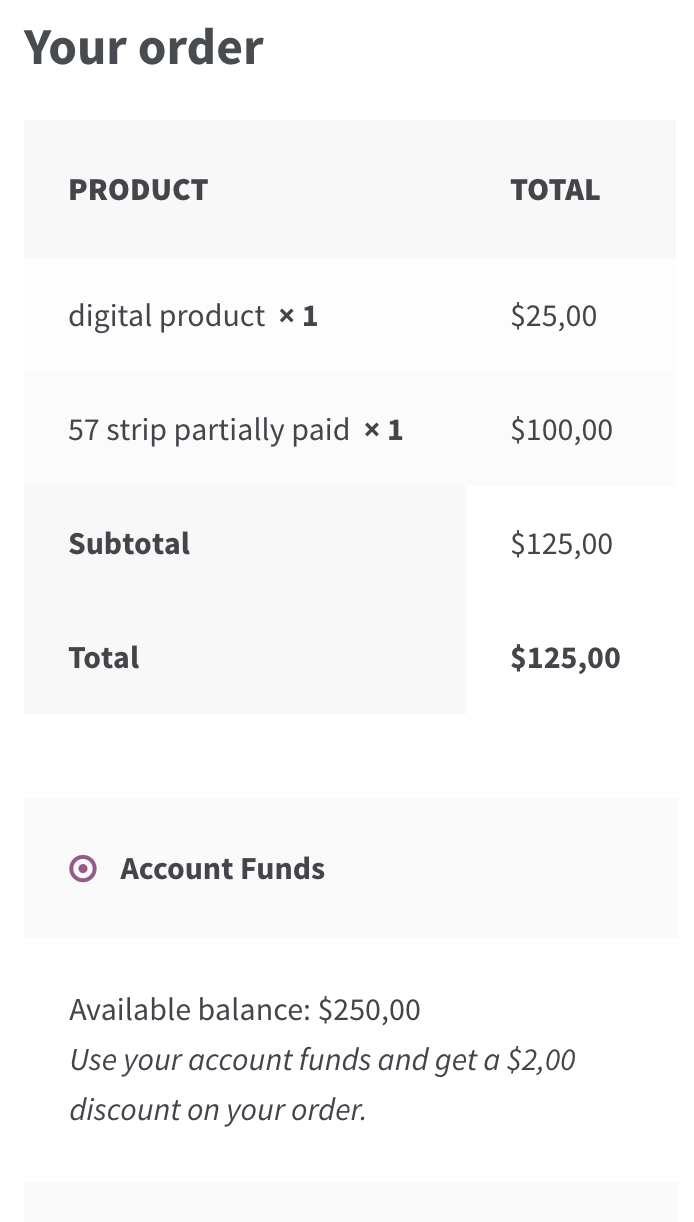 If funds do not cover the entire order total, the balance may be paid with another payment method, such as PayPal or Sage.
Am I required to give discounts? ↑ Back to top
Absolutely not. You can enable or disable the discounts by going to the settings page on WooCommerce > Account Funds.
Who can use Account Funds? ↑ Back to top
Only registered and logged-in members are able to deposit funds in their accounts and use those funds to pay for an order.
Can I rename the payment method on the checkout page? ↑ Back to top
Yes!
1. Go to WooCommerce > Settings > Payment Gateways.
2. Select Account Funds to show settings.
3. Change the Title.
4. Save.
Where can I see my members' account funds? ↑ Back to top
Go to the Users page (Users > All Users) and view a column for Account Funds for every member of your store.
Can I add/deduct funds from a member? ↑ Back to top
Go to Users > All Users and search for a member to edit. Click Edit, and scroll down to the Account Funds section to a textbox with the member's current account funds and adjust. Select Update User to save.
Have a question before you buy? Please fill out this pre-sales form.
Already purchased and need some assistance? Get in touch with a Happiness Engineer via the Help Desk.